In this world of information overload, the future of reaching your consumers is peer-to-peer marketing. Buyers of today, rely less on the content created by the brands and more on recommendations from colleagues, friends, and the extended family. Peers influence the decision makers to a large extent when it comes to marketing. A source says that word-of-mouth recommendations from peers affect 92% buying decisions. That's a huge number indeed!
The best and the quickest way, thus, to reach your target audience is through people who can influence them. To achieve this you need to mobilize your happiest consumers and convert them to become your brand advocates who will become the voice of your brand. You can then use your advocate's arena of influence to create massive brand reach. Advocates will personally recommend your brand, share positive reviews about you and may also share your brand content on their social media with healthy reviews and recommendations.
The number of advocates that you have for your peer-to-peer marketing is directly proportional to the amount of benefits you reap. The benefits will include:
1. Registering your name in the minds of your target audience
2. Getting good quality leads who look forward to engage with your brand
3. Keep ahead of the competition
4. Faster sales cycle
5. Better ROI
6. Exponential growth
Peer-to-peer marketing is also an effective tactic to reach college students. These students are a core group of audience for many brands. However, registering your brand in their minds is a tricky task. One has to understand things that are as basic as what are the popular media to reach them, their demand pattern, and how tech-savvy are the students you are reaching out to. However, the most important factor you must consider while hitting the campuses is that these students are hyper-connected audiences with very high expectations. So why should you reach them?
College students make their own purchase decisions either because they are away from home or because they need to match with their peers. This time of their lives is when they want to impress everyone. So they are cautious about every choice they make starting from the kind of hairstyle to the clothes that they wear to coffee shops and the type of food they order. Also, students are early adopters; they move ahead with time and are the first ones to buy the latest technology. Hence, their feedback can also help you revamp your product or develop a new one. If a brand is able to create good customer experience at this stage, it can benefit in terms of a long-lasting relationship and favourable purchase behaviour.
But, the major challenge that a brand can face here is that these students have limited funds. Despite the challenge, this group of target audience is a fruitful investment avenue to win over loyal customers. Hence, to carve a great customer experience for these students, you can offer discounts to keep them coming back to you. Schemes like better terms and conditions, better offers, free trials, and incentives can help you achieve your campus marketing goals. Once they complete their studies, they will retain the brand affinity and association they have developed and will keep coming back to you but this time with the potential to pay the complete price without the discount.
Convinced, but confused about how to make students your brand advocates? Don't be!
Students these days are born with the knowledge to use technology and social media. They are glued to the medium and share every moment of their lives on social media with their huge list of friends. They keep sharing photos and videos with regular status updates and tags. Social media makes an important part of their existence. What gives them a high is talking about something new and innovative, especially if it is gradually becoming the talk of the town. Aligning your marketing goals with this insight can help you a lot. You can drive them to have conversations around your brand and also motivate them to influence people in their peer group. All you really need to work on while reaching students is to ensure that you give them the best consumer experience and they will have a good word of mouth for you always.
Stay real and authentic while reaching students. Do not compromise with your brand policies and goodwill. Students have an image of your brand that they identify with, changing it completely to appeal to them, might affect your brand otherwise. Therefore, you should work towards building an aspirational value with your brand rather than changing or revamping its identity. Making users the heroes of your brand and marketing campaign can help you drive more conversations and engagement.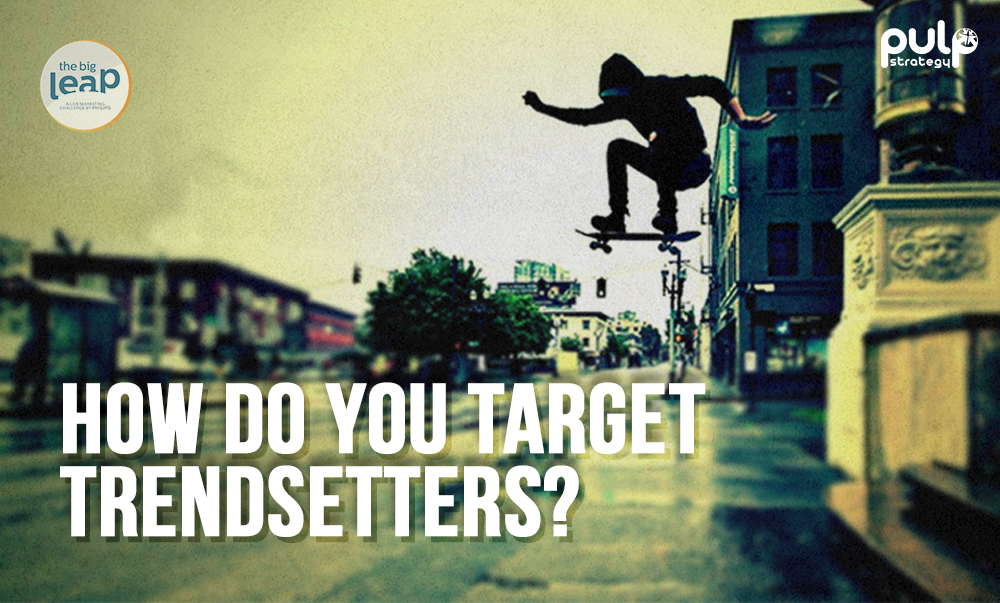 Philips India went a step ahead with its peer-to-peer marketing strategy to promote their Male Grooming & Styling Appliances with its successful 'The Big Leap' campaign. The campaign was well thought of and designed by Pulp Strategy Communications. They researched and encashed on the facts that India is the world's largest youth economy with half of the population below 25 years, the market that they are targeting is growing at an exponential rate with 89% consumers adopting trimming as the most convenient way to get started with a beard and stubble. The objective was, hence, set to create a platform which helps Philips to seed-in the product in the early adaptor segment, and build a long term brand association. They made students the brain behind promoting the product.
The campaign was launched in top 7 cities of India as a live marketing campaign equipping marketers of tomorrow to harness the power of peer-to-peer marketing. The campaign involved marketing students of the top 175 management and engineering campuses in India, who had to effectively use marketing tools combined with their knowledge to innovate, create, design and execute an effective product marketing campaign at their campus.
'The Big Leap' by Philips is an integrated campaign which used digital marketing, social media, online content creation, on ground engagement/events, also making the best use of WOM, direct mailing, merchandising, consumer contests and training engagement mediums to influence change in consumption patterns, influencing product adoption and create a winning mix for the brand.
Want to Integrate Peer-to-Peer Marketing with Your Current Marketing Plan? Get in in touch with us at: strategist@pulpstrategy.com
---