Geo-targeting has always helped marketers reach the right set of target audiences without much hassle. Facebook too, is enthusiastic about enabling marketers to reach their target audience based on the location. This is a useful feature, especially if you are a local business. Geo-targeting allows you to selectively publish your content for a particular chosen geographical area than to the whole world.
To strengthen location or geo-targeting, Facebook now enables you to target users based on specific fields like addresses. All you need to do is enter a physical address or geographic location in the 'Locations' field to target users in that area. For instance, let's say you own a footwear shop in New Delhi and want people to visit your shop. You can simply type the address into your ad targeting and choose the target audience in and around the area of operations. Your ad will be visible only to those people.
However, this communication might also reach people who happen to be in that area just for a day, or are just passing by. If you are skeptical about reaching those people, Facebook gives you the power to narrow down your targeting criteria. You can change the settings by clicking the 'Everyone' in 'This Location' drop-down menu, and choose from the 4 targeting options: Everyone in This Location (default), People Who Live in This Location, People Recently in This Location, People Traveling in This Location. This will help you in targeting relevant audiences with precision, which means better return on investments too.
Here are 6 ways in which you can make the most of Facebook's Advanced Location Targeting: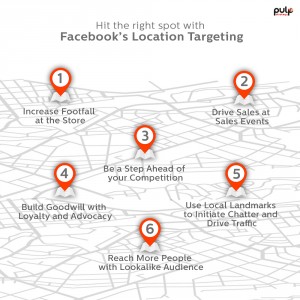 Increase Footfall at the Store: If you have a brick-and-mortar business like a bakery, restaurant, gym or a fashion store etc. then it is advisable to target people in your city or state via Facebook ads only. It'll be even better to use extended location targeting to let your audience know that you're just a few minutes away. Your message can carry contextual cues that will help you make an emotional connect with your audience.
Drive Sales at Sales Events: You do indulge and invest to promote a sales event or boost revenue during a specific time of the year to spread awareness, dedicating every effort to build anticipation for the event. While advertising is a great way to reach people, you may not want to reach as many people as possible during the sales event but to a select few who are present in a certain location. Facebook extended location targeting can help you reach audiences around your vicinity, where you can speak to and attract the target audience.
Be a Step Ahead of your Competition: You are definitely not the only one providing a particular product or service in your area of operation. Therefore, it is vital for you to be closer to your target audience and tell them how they can benefit from doing business with you. It is imperative for you to stand out from the competition and tell your audience why they should choose you over your competitors. However, avoid taking names of your competitors, rather talk about your location, position and your product as a best choice using Facebook's extended location targeting.
Build Goodwill with Loyalty and Advocacy: People love the city they live in, they are inherently proud of their hometown and neighborhoods. You can use location targeting to make an emotional connect with people and drive loyalty. While interacting with your audience, talk about aspects in the vicinity that evoke pride, portray your business as a part of their proud community and showcase testimonials from people talking about you when they visited your business. However, make sure that you are genuine while connecting with your target audience or you might end up with a negative impact on your business.
Use Local Landmarks to Initiate Chatter and Drive Traffic: Every city has popular landmarks that people love to talk about, you can use these landmarks to engage your audience on social media. You can use location targeting to create an association between local landmarks and your business. Target people in those locations and deliver messages that engage them on a real-time basis. You can talk about the landmark and link it back to your business. To achieve this, you can mark all the important locations on the map and then gradually decide how to link them back to your business. You can share interesting facts about these landmarks, what is the similarity between the landmark and your business and also launch sales schemes like 'show a picture of the landmark and get a discount.'
Reach More People with Lookalike Audience: The Lookalike audience feature of Facebook's ad manager enables you to reach new people who are likely to be interested in your product and services. It helps you reach people who are similar to your current customer fan acquisition, site registrations, off-Facebook purchases, coupon claims and brand awareness. You can club this option with Facebook's extended location for precise targeting. This is beneficial, especially if you have a multi-chain store or restaurant since you can use a pre-decided lookalike audience and club it as per the location of the store to reach the similar set of target audiences in various areas of operation. This will be both timely and cost effective for advertisers.
While this new feature of Facebook ads is amazing, it is recommended to employ other targeting options based on age groups, interest and other classifications typically used with the extended location targeting. Ensure that you don't swamp people with too much of sales related content as it might rub them the wrong way. Furthermore, some people may also get annoyed that you know exactly where they are, hence don't be intrusive with your messages and keep monitoring the sentiments of your audience. To get better returns, make sure that the target audience is neither too small nor too large. Go ahead and try Facebook's extended location targeting today to reach relevant audiences and better CPMs!
Would you like an evaluation of how you can optimize your social media budget? Would you want to know how you can add value to your business using social media? Contact us.
---