Whether you are a small business setup that is just starting out, or a well established name that has millions of website visitors and followers, chances are, you value your presence on social media platforms.
And it makes sense too – being active on social media allows you to reach out to an enormous number of online users and gives you the opportunity to connect with them and sell them your product or service. It is therefore a vital tool in an organisation's marketing strategy.
However, are you doing it right? What we mean by that is – are you sure that you are using social media in the best possible ways, and not instead making mistakes?
Well, we present to you the most common mistakes that organisations make in an attempt to be active on the online space. Read on to find out more:
A. Posting the same content over and over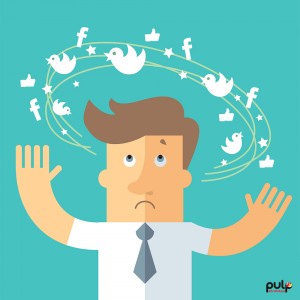 Nothing annoys users more than reading the same thing repeatedly, or reading the same type of content over and over. Therefore vary your content so that it includes not only text, but also images, Infographics, PowerPoint presentations, white papers etc. The key is to keep things interesting by posting fresh content and content types.
B. Failing to gather contact information
Ultimately, what you want are more customers. Therefore if you're not converting your website's visitors into your business customers, you're missing out on potential profits. So what do you do? Simply, offer something like a free information pack in return for your visitors' email address. It creates a win-win situation for both parties involved.
C. Not responding to user feedback
They may simply be comments left on your posts, but if you fail to respond to them, you're missing out on the opportunity to build a relationship with your visitors and customers. Also, do not make the mistake of responding angrily to negative comments. You are bound to get some, but be tactful in dealing with them.
D. Being honest and credible
Whatever you post on social media platforms, keep it creative and keep it honest. Internet users are rather savvy these days and can easily spot fake, unoriginal content. So avoid posting insincere or dishonest content – such as blog posts, testimonials, self glorifying product reviews etc.
E. Target your readers well
It's all very well to write engaging content, but if no one is reading it, your effort is going to waste. Therefore define your target audience and really understand what they are looking for from a business or a brand. And create and curate your content accordingly.
Therefore keep the above pointers in mind. Social media presence can both earn and lose you a lot of money, depending upon how you use it. So analyse your performance till bow and give it your best shot!
---