It's raining business!
A perfect time to indulge in some delicious LinkedIn Marketing Strategies. So let's pull out a simple and inviting recipe and look at what ingredients will attract all the leads to your backyard.
93% of B2B marketers consider LinkedIn their go-to platform for lead generation.
LinkedIn is where businesses go to satiate their professional appetite. The keyword being 'professional', as in the people you want to work with and want to sell to. On LinkedIn, you can directly target people who are experts in their field, thanks to the neat categorization. Hence, potential leads see only good quality solutions and ads relevant to them.
Here are the ingredients for a scrumptious LinkedIn strategy to get a powerful impact.
Ingredient 1 - LinkedIn Groups
Carefully handpick a few relevant ones for the base
Picking the right groups can add the perfect kick to your strategy. Most groups are just bland - either silent or a place filled with spam. Brands need to pick the juiciest ones - that are not just consistently active, but also have a considerable number of genuine users within their target market. Since LinkedIn has started featuring content from groups, it is important to share content that's relevant.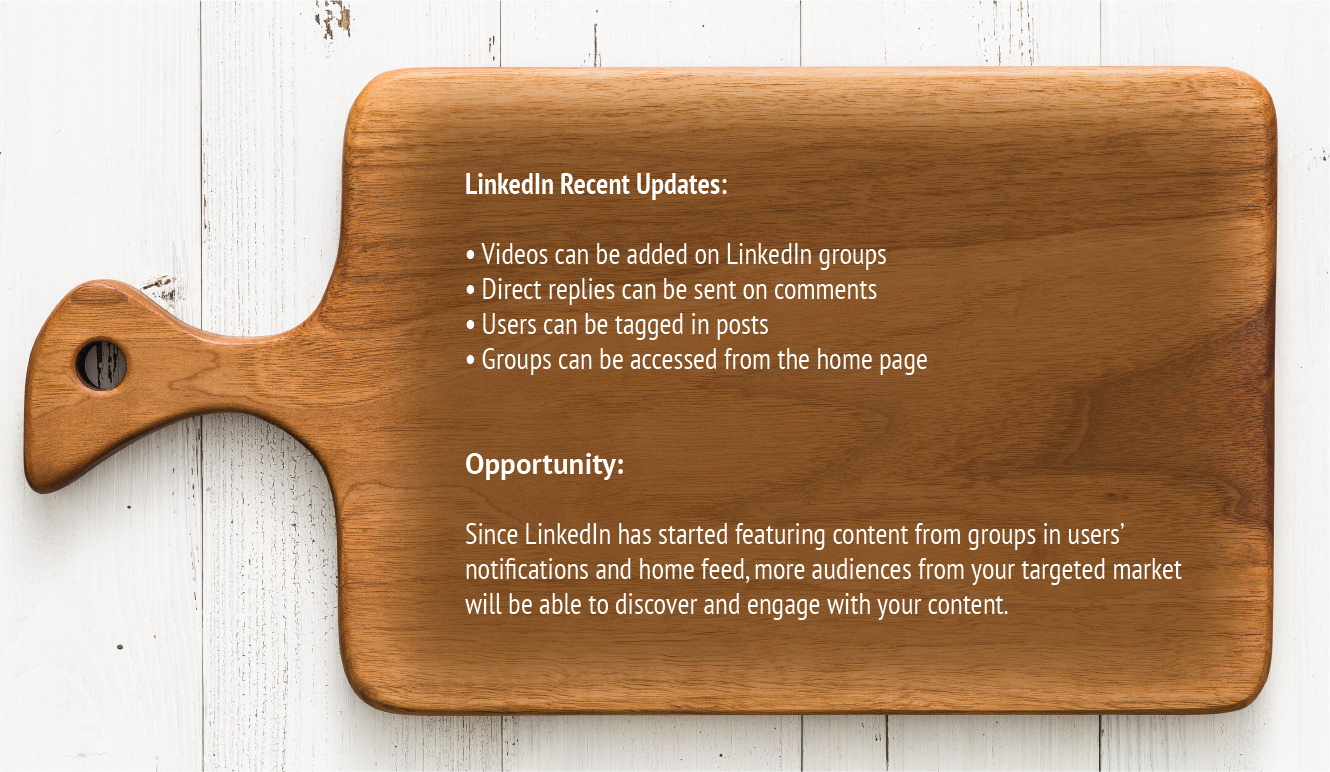 Ingredient 2 – InMail and Sponsored InMail
Take a heaped spoon full of each and spread evenly
The problem that brands face with LinkedIn is that messages can only be sent to your 1st-degree connections. Hence, the person you want to communicate directly to has to accept your connection request first. But why will anyone accept it before knowing who you are and what you want? Here's were InMail marketing comes into play.
Though marketers have recently recognized the value of this feature, it has become a must-have component of LinkedIn marketing strategies. Using InMail and sponsored InMail feature, brands can send messages to 2nd and 3rd-degree connections. While through InMail only a specific number of messages can be sent in a month, Sponsored InMail is a paid feature that allows marketers to send messages to a specific targeted audience.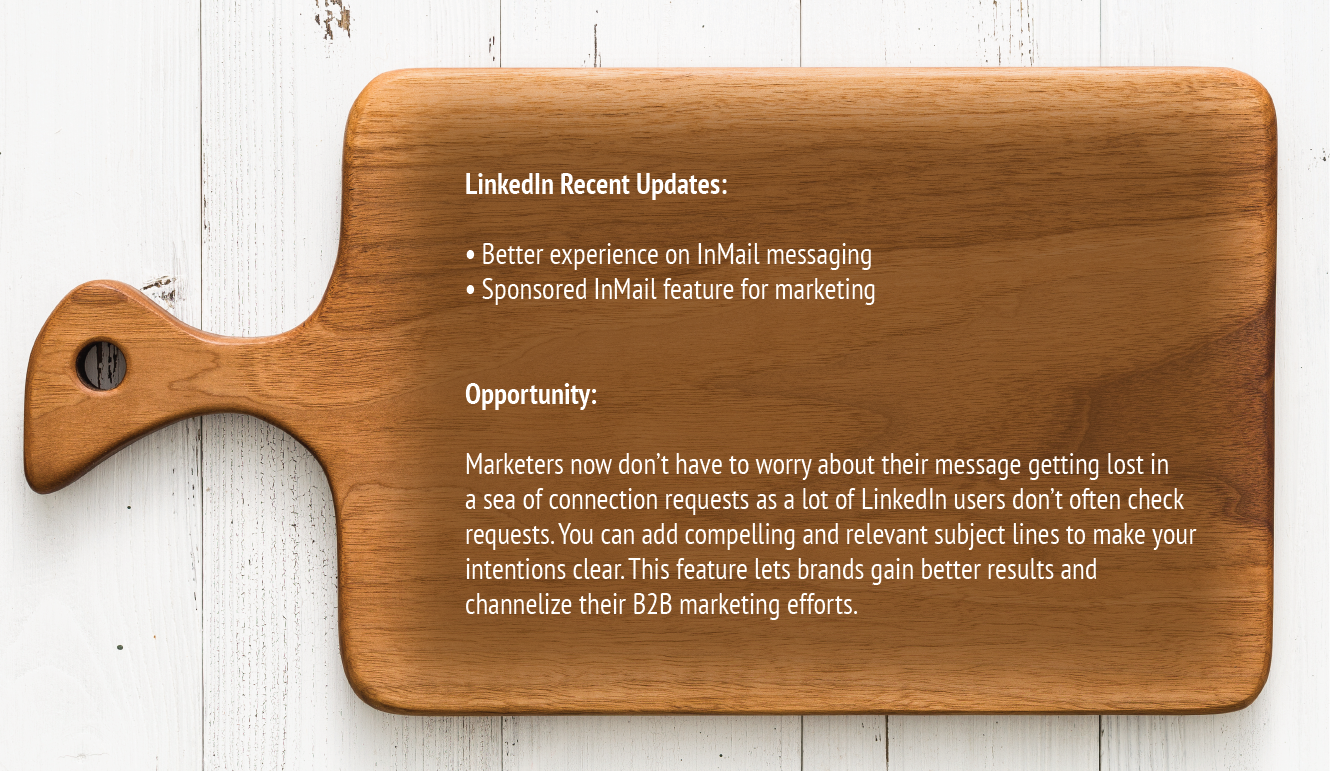 Ingredient 3 – Matched Audiences & Website Demographics
Throw in the right proportion of Ads carefully diced
Like other platforms, LinkedIn also supports three ad formats that engage people - sponsored content, text ads, and Inmail. Earlier brands preferred advertising on Facebook and Twitter, even for B2B marketing because they did not have comparable targeting options and analytics on LinkedIn. But now with Matched Audiences, LinkedIn's own audience targeting feature, the story has changed.
Additionally, to help businesses analyze the effectiveness of their strategies better, LinkedIn has introduced Website Demographics. This works like a Facebook pixel for LinkedIn.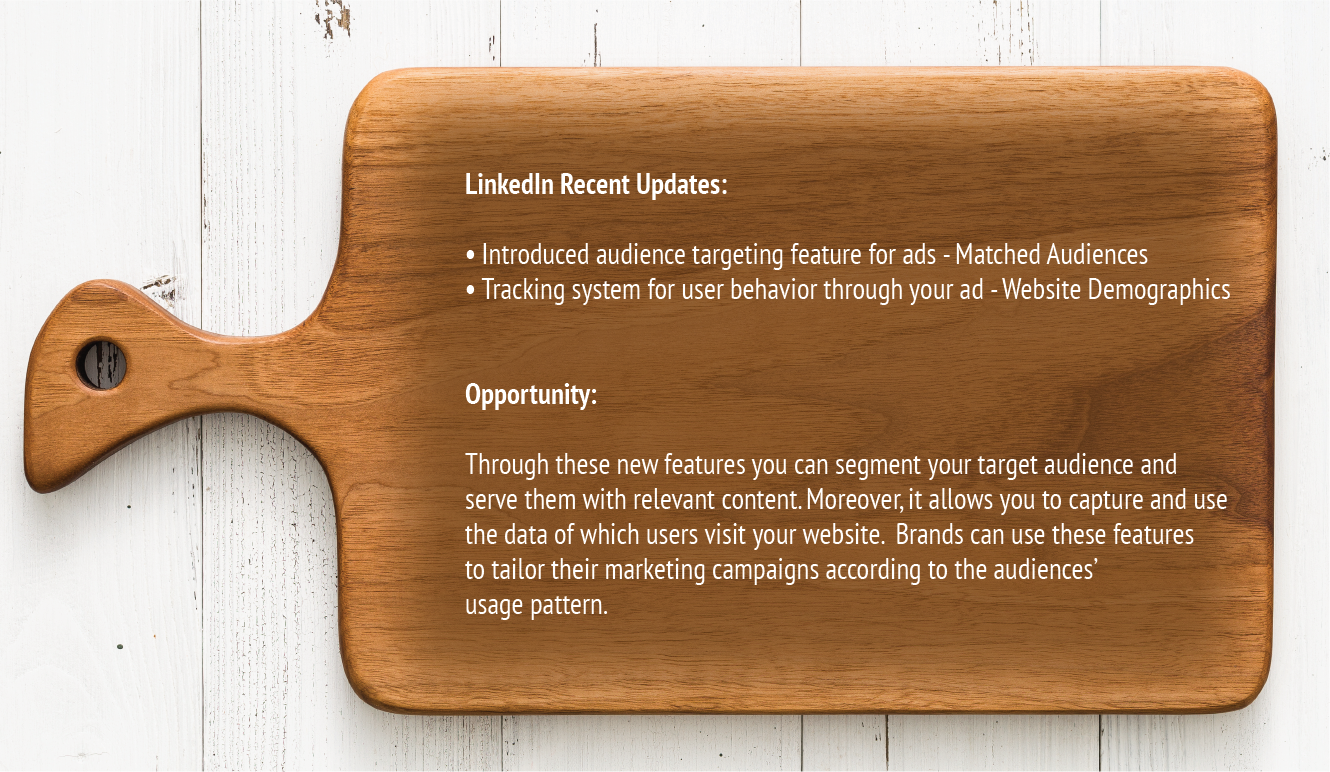 Ingredient 4 – Video Posts
Pick fresh ones and add a generous dollop for garnishing
When it comes to content marketing, regardless of the platform, you cannot go wrong with videos. After Facebook, now LinkedIn too has started giving importance to video-based content - highlighting them in the newsfeed and playing them automatically. Users are also now allowed to upload videos.
For brands, this also comes with an opportunity to share relevant videos on how to use their product, how it is made, give demos and hence, induce sales. Businesses are realizing the potential of the platform as well as the medium and rapidly at that. One thing that can be a game changer is being the first mover in this space.
Following a recipe for LinkedIn success is not that difficult. It just needs you to add the right ingredients, analyze what is working and stop stirring when it tastes right. Adapt to the changing ways of the platform and the way your customers consume information.
---