The challenge
When you are a brand as big, as smart and as ever-present as Intel, astonishing and engaging users every day is all in a day's work. But to create traction in a fragmented, cluttered and touch sensitive market of 2-in-1 devices, a special genre of engagement strategy had to be crafted. It had to be less advertisement and more entertainment, have legs both online and offline so that it can translate in to footfall and demos. Re-inforce the 'Intel inside' value proposition. Give a definitive experience of the superior power of Intel devices that the audience partake willingly and commit to.
Insight
In a country that makes no apologies for its fanaticism over cricket, and the world cup coming up, our way clear. With ongoing buzz and excitement already outlining the world cup, we did thorough research of all the touchpoints that can leverage Intel's performance and engage the audience into meaningful conversations.
RunMore
Born of the challenge Intel gave us, and the insight we acquired, Intel #RunMore – a mobile application was created. Light-weight and optimized for Intel-powered devices, it let consumers have and entertaining and immersive experience of the game of cricket pre-World Cup. It showcased the speed and power of Intel, engaged their senses and a trivia challenged their knowledge of cricket. They not only had to play the game to make runs, but had to answer the questions as well.
Speed and performance based Intel RunMore not only allowed the consumers to connect with the World Cup in an engaging way, but provided a superior experience that connected the consumers with the 'Intel Inside' proposition.
Our targeted channels
To tap-in to this once in a 4 year opportunity, we quickly got to work on the channels best suited for this type of campaign. We zeroed in on a) OOH b) Retail c) Social Media d) Mobile gaming e) Web gaming f) e-commerce.
Once we had all the media channels figured out we started crafting our engagement strategy and execution.
What we did -
Online
Tailored and specialised content for the social media on Intel owned digital real estate were floated that enticed audience with reward based interactions at the store. We ditched the typical cricket-flavoured content and instead created a live content hub. Over there we connected actual, live match related scenarios with the product benefits. It created a dynamic environment that saw high engagement that let to our hashtag trending for 33 hours in a span of 6 days.
E-commerce and OOH
E-commerce focused and OEM offer led communication helped create further traction for Intel to involve, attract and convert leads and develop brand loyalists. Launching in 12 cities, the OOH played an essential part in catching audience across India and plugging-in Intel to the on-going world cup fever.
In-store
Once the footfall started rolling in, the focus was channelled to give them an immersive experience with helpful guidance. This was to secure conversions with the help of the game and quiz designed to engage, and create a delightful experience, for the prospects. Personalised assistance in the store created productive conversations with our audience both online and offline.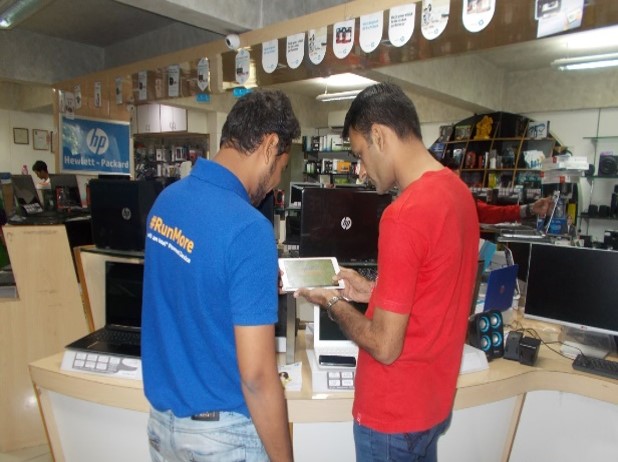 Result
All our efforts led to an increased engagement on the social media. Facebook grew by 1105.2%, Twitter saw 1563.2.6% growth. The 164 participating retail stores across 12 cities saw 72000 live demos.
Over all the RunMore campaign engaged 7.46 million souls, with digital constitution 4.26 million and OOH 3.2 million. The campaign was responsible for improving improved brand advocacy and performance that translated into the overall demand of Intel powered 2-in-1 devices. In the end, what we learned? Always look for the Intel inside!
Case Study
---