While many marketers are not impressed with 'Quality Content', Google surely is. That's why Google is leaving no stone unturned to make sure that its search engine rankings reflect the highest standards of content.
It comes as no surprise when a recent study says that the time spent on the page has a significant effect on search rankings. The finding impacts what constitutes and defines engaging content – impossible to achieve if it's not high quality. Google has raised the bar and expects the world to follow.
Here are 5 tips that will help you meet Google's standard of quality content for your website.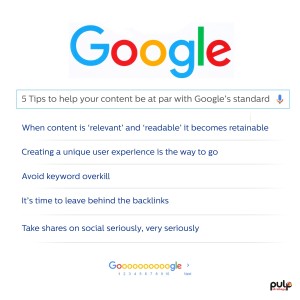 When content is 'relevant' and 'readable' it becomes retainable: What's the logic of a piece of content if it does not help the reader in any way? Content is not just a tool to attract traffic, it's a way to boost the website's ranking on search engines. Google likes the content to be informative and useful. This is the reason why the top 30 pages on Google search have witnessed an increase of 25% in average text length. Readability is another big determining factor. A very nice piece of content can be a treatise of nerve-wracking jargons. It's better to keep things simple and easy to understand.
Creating a unique user experience is the way to go: Champagne is champagne, yet no one likes to drink in steel tumblers, serving it in a flute glass transforms champagne from a beverage to an experience.  The same goes with content, the presentation, look and feel, navigation and the imagery needs to be top notch and in sync with the article to make it more interesting. Not to forget mobile, where the small screen poses bigger challenges for the content to be discovered. Having a responsive web design is an idea you must think of, as 30% of the top 30 pages have gone responsive.
Avoid keyword overkill: This is the renaissance period of digital marketing meant only for innovation. Cramming keywords in sentences to improve page rankings is a trick from the dark ages. While producing a piece of content, keep in mind that it will be read by a rational human being who needs some relevant information and not just a bunch of irrelevant keywords.  The key is to write readable and enjoyable content which showcases your creative and disruptive side. It will make both readers and Google bow down to you with love and appreciation.
It's time to leave behind the backlinks:  A study has found and established what we have been suspecting for a long time; the correlation between search rankings and backlinks is on the decline. The study points out that over-hyped and unnecessary link-building is a mega waste of time. It is advisable to spend time and energy on creating content that is readable and sharable. In case you love backlinking too much there is bad news; Google is making it difficult to create unnatural linking to ensure that only quality content gets through to its audience.
Take shares on social seriously, very seriously: Google has its lips tightly sealed but experts believe that the connection between social shares and search engine rankings is real. The logic is simple, more shares means more reach. This increases brand awareness and also drives more traffic to your website, which is a shot in the arm for your search engine rankings. Social media platforms are a surefire way to know the potency of the content. If your audience is not sharing or liking your content, you know it's better to work hard and make it better.
In the era when content is generated faster than the speed of light, so to speak, it is very important to make your content stand apart. Quality Content is the 'only' way to do it. Creating good content is not rocket science. You need to think from the perspective of your audiences and mould your content strategy to fit your brand objectives. Go through the 5 tips before writing a piece of content and soon you will feel the difference, hopefully rising up the ranks, and rankings.
---