Chatbots are programs that are built to automatically engage with received messages. While they can respond to generic queries, they can be programmed to respond differently to messages containing certain keywords. Also, with the use of use machine learning these answers can be adapted according to situations. They leverage chat mediums like SMS text, website chat windows and social messaging services across platforms like Facebook and Twitter to receive and respond to messages.
Facebook recently released a host of data showing why consumers prefer chatbots:
2 billion messages are sent between people and businesses monthly
56% of people would rather message than call customer service
53% of people are more likely to shop with businesses they can message
Individuals have different uses for chatbots. However, the key things that customers want from chatbots are:
To get a quick answer to questions
To resolve a complaint or problem
To get a more detailed answer to a query
Hence, there's no doubt that you need to start leveraging chatbots to streamline customer communications, success and sales. They aren't just convenient for your consumers, but also great for your business.
As a business tool, they aren't new, but the utilization of chatbots has certainly gained momentum in the last few years. Its value comes from their ability to automate conversations throughout your organization.
Below are five key benefits businesses have realized while using chatbots:
1. Save Time & Money
Chatbot allows you to automate conversations that would otherwise require an employee to answer, thus saving time and money for the organization. Now, instead of having your reps spending all of their time answering inbound questions, their time can be allocated to proactively finding relevant conversations to join with social listening tools. Statistically speaking, the number of social messages requiring a response from a brand increased by 18% from 2015 to 2016.
2. Lead Generation & Revenue
For example when a user visits page on a site, there is one way information dissemination, to enable a dialogue chatbots become crucial for such marketing practices. And by automating these initial interactions, it allows the marketers to connect better and get the information needed for the agent to better serve them without requiring a human to ask for it.
Studies have also predicted that within the next five years, between 75% and 90% of queries will be done by chatbots, resulting in cost savings of up to $8 billion per year by 2022.
Example: The Drift's website chatbot qualifies prospects and gathers their email addresses so a sales rep can follow up.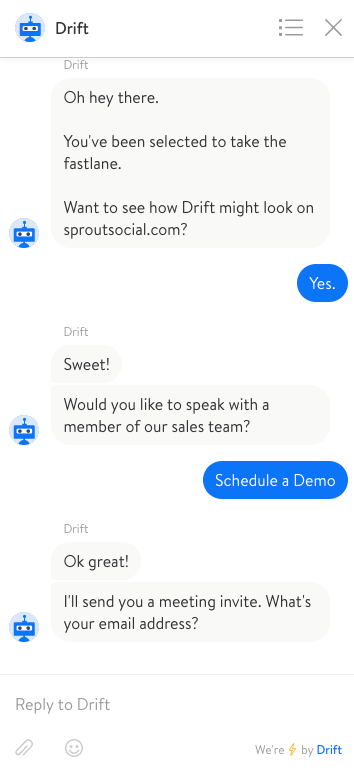 This chatbot automatically delivers qualified leads to the sales organization while also fighting the fatigue caused by answering the same questions over and over.
3. Guide Users to Better Outcomes
When a customer visits your page, many of them don't always know where to go to find the information they're interested in. Another possibility is that they may not even know what it is they're interested in. They might just have just heard your brand name in passing and decided to explore. Asking them a series of qualifying questions, will help them find the information they want.
What is important here is to think through some of the questions to guide your visitors in the best way possible. The questions might vary by business type, but some common ones are:
May I help you?
Where are you located?
What department are you in?
What industry are you in?
Would you like personal support?
Imagine a global organization such as an airline. From departing locations to arrival locations, potential upgrades and a myriad of places to purchase tickets, there are an almost infinite number of combinations for purchase. By personalizing questions a chatbot asks, the airlines direct customers to the best way to buy and create a better user experience.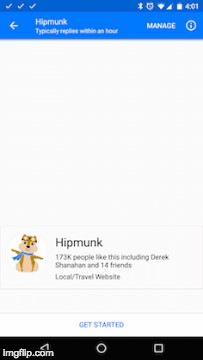 4. Provide 'After Hours' Support
One of the most popular uses of chatbots is to provide quick answers in an emergency, as seen in the Drift data. But, many organizations that don't offer 24-hour support won't provide answers when the office is closed.
Here, by using a robust chatbot when your business is closed, customers still gain access to the information they need. According to recent research, customers expect a response between 0-4 hours. However, brands typically take 10 hours to respond. With the help of chatbots, this response time can be significantly reduced.
5. Engage Users in a Unique Way
Back in the days, customer questions were routed to businesses via email or the telephone, which made user experiences fairly standard and non-customized. But with chatbots, this user experience becomes more fun and interactive. A good example of this is Domino's Pizza's Twitter. It allows customers to order pizza by simply sharing an emoji and the bots then route those orders, asking additional questions, if necessary.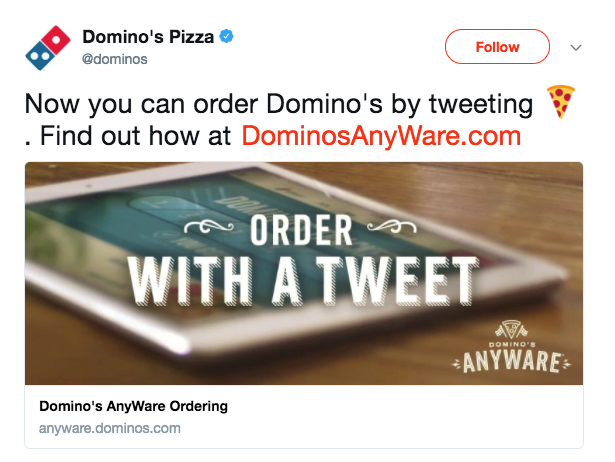 Another great chatbot example comes from Fandango. Unlike the days when you had to spend time sorting through Moviefone's options via its 1-800 number, you now go to Fandango's social profiles and leverage its chatbots to find movie times and theaters near you.
With such great potential, chatbot definitely is the next big thing in the world of businesses.
Have you used or are thinking of using chatbots for your business? Share with us your experience and learnings.
---