By popularizing terms like 'food porn' and 'selfie', Instagram has created a space for itself as one of the most used social media platforms today. With the number of users crossing the 1 billion mark, Instagram is a trendy social media platform. Ever wondered why Instagram is so popular. What is so different about this trending social media platform? And how can you use it to benefit your business? Today, your digital marketing strategy depends heavily on Instagram. Cracking the code of Instagram is crucial to ensure the success of your marketing campaigns.
When it comes to Instagram marketing, brands should remember that it's not about the number of impressions but rather the quality of content that matters. It is best suited for products aimed at young consumers like fashion and cosmetics.
No wonder brands need to leverage Instagram for their digital marketing purposes. This blog will provide an in-depth understanding of Instagram's importance to help you devise a successful digital strategy.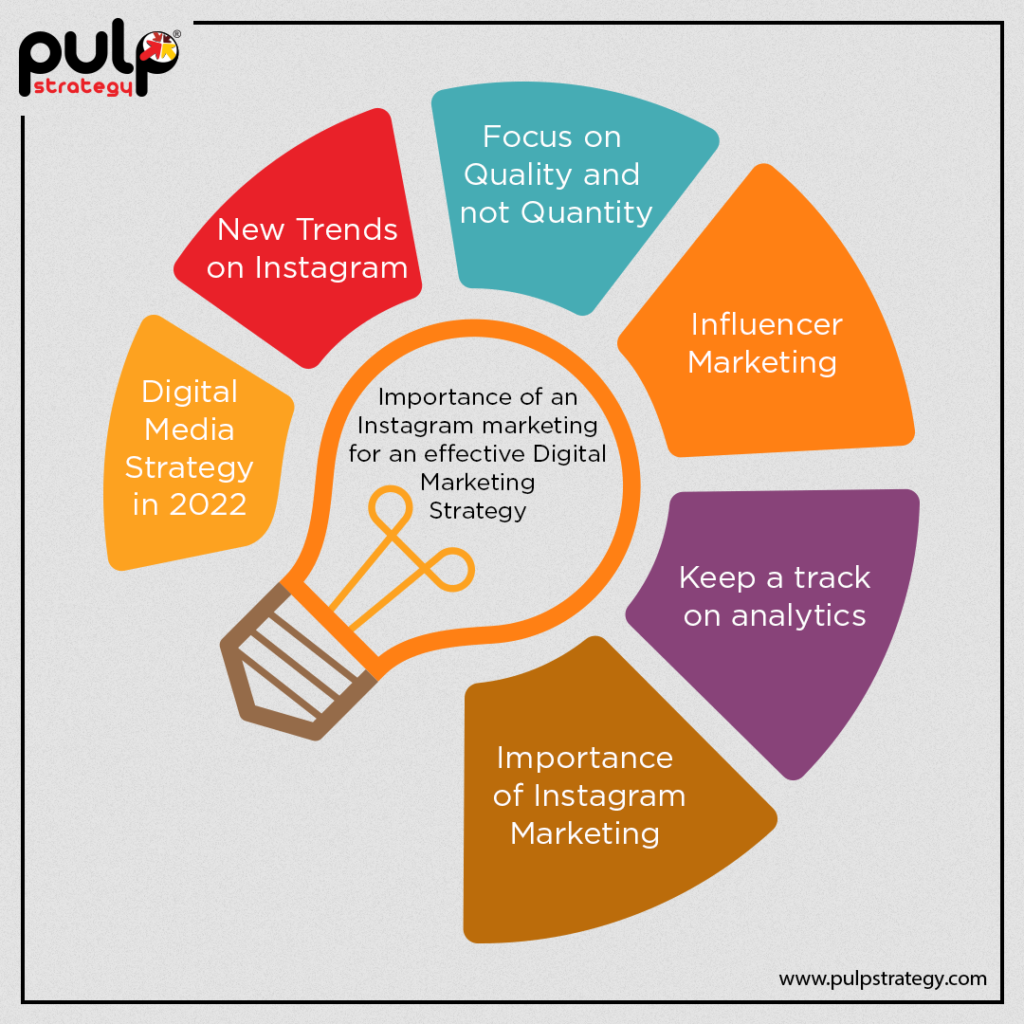 Digital Media Strategy in 2022
The visual nature of Instagram distinguishes it from other social networking networks. As a result, Instagram is the ideal medium to promote content if you have a business that can create visually appealing content.
Video, images and illustrations are all excellent content options for this social media site, but your marketing plan will ultimately determine what type of content to share and how frequently. Developing a well thought digital strategy will go a long way in keeping you focused on your goals and help you engage your audience better. To get this done correctly, brands should hire agencies with in-depth understanding and comprehensive experience in this field.
New Trends on Instagram
Users are constantly bombarded with the ever-changing interface and features of Instagram - reels, IGTV, DM stickers and loads of Instagram story features. Brands need to remain on top of these features and understand what works best for their digital marketing strategy.
Instagram is a visual medium so act accordingly
Instagram, as a visual medium, lures more users. Audiences enjoy visuals not just because they are more appealing but also because they send across a message more clearly than text. In addition, 95 million photos and videos are uploaded daily on Instagram, making it a great place to market your brand. Thus, including an engaging Instagram strategy in your digital marketing plan will help you drive engagement and maximize ROI.
Avon is a leading global skincare company. During its launch in India, Avon wanted to position itself as a new-age brand and create awareness about its rich history in the skin care vertical. We leveraged Instagram for Avon and made a substantial buzz around it, using this social platform's unique features and interface. We kickstarted Avon's Instagram account, and it is a huge success today, with over 32k followers on the platform.
Unlike Snapchat, which is a medium for teens and LinkedIn, more popular among working professionals, and many other social media platforms, which cater to a particular set of audiences, Instagram is a medium that caters to one and all. Instagram breaks any barrier by uniting different groups of people with the power of visuals. Who doesn't love pictures? You can find people from almost all walks of life on Instagram. This reason should be enough for brands to leverage Instagram for their digital strategy.
Importance of Instagram marketing in your digital marketing strategy
It's critical to leverage platforms that customers are familiar with to reach out to your target demographic more effectively. Nothing compares to Instagram, where most users spend most of their time throughout the day and night. As a digital marketer, you may wish to take advantage of these consumers' habits, which can help you generate significant leads. Instagram assists you in attracting the right clients and providing them with the right information at the right time, as well as showcasing your product or brand to potential customers. Marketers can use Instagram for an effective digital marketing strategy.
Focus on quality and not quantity
With millions of images being shared on Instagram every day, brands get a little panicky and tend to share more images than required, sometimes compromising quality. However, as a brand, each photo and video that you share must be thoughtful, flawless, and of the highest quality to catch attention and drive engagement. So it's time to use Instagram for digital marketing, but wisely.
Embed your Instagram feed on your website
Embedding the Instagram feed on your website is an attractive option. It's an excellent technique to demonstrate social proof and gain user confidence. It also improves the user experience on your website and enables you to create a stunning Instagram Hashtag Feed on your website that displays real-time user-generated Instagram posts. Brands can get in touch with several leading digital marketing agencies to incorporate Instagram feed on their websites.
Influencer Marketing
It is one of the most effective ways to grow your Instagram following, especially if you're new to Instagram.
Influencer marketing used to be an expensive affair, with celebrities charging high fees to increase brand loyalty. However, with the rise of non-celebrity influencers on Instagram, associated influencer marketing has emerged as a feasible option and vital addition to a brand's Instagram marketing efforts.
Keep track of analytics
Keep an eye on how many people are engaging with your Instagram posts. What types of postings get the most reaction from your followers?
If you have an Instagram business account, you will have access to the insights and activity logs. It enables you to provide a comprehensive picture of your complete Instagram marketing strategy.
Brands can get extraordinary results by leveraging Instagram for digital marketing and can create a distinct online personality.
Transform your brand's personality with a dedicated and holistic Instagram marketing strategy from Pulp Strategy, a highly acclaimed Instagram marketing agency.
Here's wishing you a fruitful and picturesque Instagramming ahead!
---