What Is Social Media Marketing?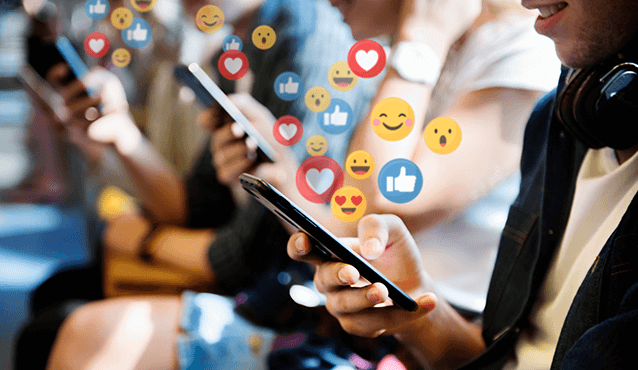 Social media marketing uses social platforms to connect with your audience, build brand awareness and increase sales. This involves publishing great content on profiles, engaging followers through listening and analyzing results while running ads when needed. Social media has flourished from broadcasting content into a thriving community that marketers can use for research, customer engagement and more. Nowadays, businesses use social media to communicate with their customers in a number of different ways. For example, if they are concerned about what people are saying about their brands, it would monitor conversations on social media and respond accordingly (social listening). A business that wants to understand how it's performing on social media would analyze its reach, engagement, and sales with an analytics tool (social media analytics). A business that wishes to reach a specific set of audiences at scale should run highly-targeted ads through the platform. A business could analyze its performance on social media with an analytics tool. A business that wants to reach a specific audience at scale can run highly targeted ads. A company wanting to understand how it's performing on social media should use analytic tools. At the same time, another should consider running targeted ad campaigns to connect with a particular set of people by scaling its marketing efforts.
How Social Media Marketing (SMM) Works?
In a study conducted by Global Web Index, it was found that 54% of internet browsers use social media to research products before they make purchases. This is how social media marketing works for brands:
Market Research: Collecting relevant data to solve marketing challenges in the digital age is a breeze compared to traditional methods. Social media allows you to understand customer demand and stay updated about buying trends and your competitors' efforts while also analyzing market conditions.
Discovery: Identifying and unlocking new opportunities is easy in the real-time world of social media. You can find new ways to connect with your target audience, generate leads through conversation starters like polls or informative content that's relevant for them. Nurture those conversations by responding to their comments quickly before they get lost among all other tweets on a brand page. And provide customer support by having someone focused solely on answering questions from interested followers.
Formulate a strategy: Depending on your business objectives, you can prioritize opportunities and develop a clear social media strategy. Various online tools have also cropped up to help manage digital marketing efforts.
Final review: The final review on social media is that you can receive instant feedback and reports about your campaigns. This allows the digital marketing strategy to be improved upon as needed.
How Social Media Marketing Can Help You Meet Your Marketing Goals?
Social media helps a business achieve several goals like:
Increasing brand traffic
Building conversions
Increasing brand awareness
Improving brand equity
Boosting positive word of mouth
Ready to Start a Project?
Let's Talk
How to Choose the Best Social Media Platforms for Marketing?
Here's a brief overview of how to use social media marketing for different platforms. Each one is unique, so tailor your strategy towards the platform you are using.
Facebook: Facebook's casual environment requires an active social media marketing strategy. It is a place people go to relax and chat with friends, so keep your tone light and friendly.
Pinterest: Pinterest is a social media platform that allows businesses to showcase their product offerings while developing brand personality with eye-catching and unique pinboards. When creating your Pinterest strategy, remember the primary audience of this site are females.
Twitter: Twitter is the social media marketing tool that lets you broadcast your updates across the web. It's best to follow people in your industry or related fields and gain a steady stream of followers back as well!
LinkedIn Groups are great for professionals to connect with other people in similar industries, participate in conversations about topics relevant to their industry, and share content.
Youtube: With over one billion users, YouTube is the number one place for creating and sharing video content. Additionally, it can also be a powerful social media marketing tool due to its large user base.
Advantages and Disadvantages of Social Media Marketing
Advantages
Better customer satisfaction: When marketing for social media, you're speaking directly to your target audience. That means the advertising will be more relatable and personal than traditional advertisements.
Improved brand awareness: When you create and share quality content, your brand awareness will increase.
Gain better market insights: When you share quality content with your customers, it will create more brand awareness for your company.
It is cost-effective: Social media marketing is possibly the most cost-efficient part of an advertising strategy. Being cost-effective allows you to see a greater return on investment and retain more budget for other expenses like business costs, taxes etc.
Inbound traffic is boosted: Social media marketers know that inbound traffic is vital for a company's success. This type of marketing attracts potential customers even before they're ready to buy, which makes it one of the best ways to turn people from being strangers to loyal customers.
Disadvantages
Exposure to the competition: Social media marketing enables you to study your competitors' strategies. However, they can still study your business methods through a social platform—this puts businesses at risk of being outdone.
Slow Return on Investment: Social media marketing is a long-term investment requiring ongoing campaigns.
Time Consuming: To get people to appreciate your content and share it may take time. However, remember that not everyone is interested in the same things you are, so they might ignore or unfollow if their interests do not align with yours even after some time has passed.
Related Content:
Conclusion:
Social media is a crucial part of your business marketing, but it doesn't have to be stressful. Start with creating profiles and engage more on social platforms! Your professional voice should sound natural while also being entertaining for the reader. As it continues to weave itself into the daily patterns of our lives, more consumers will go to new and upcoming social platforms for purchasing decisions. Those with a solid social media presence and branding will increase conversion rates, while those without active social media campaigns could lose potential customers. So which company do you want to be?
---