How often will kids click on that mobile ad banner? will mothers? Are apps for your young audience a part of your 2015 mobile plan?
Some working parents may well see this as a snippet of their story

India is witnessing a revolution in mobile data and uptake of smart devices. Marketers in India are yet to harness the power of apps to engage consumers and increase salience for the brand.
Increasingly, younger children* are embracing smart devices for entertainment and educational purposes. This rapidly growing market provides benefits for app users of all ages and presents an unprecedented opportunity for marketers to engage and build some brand love in younger audience in India. Kids are spending an Increasing % of time on mobile with gaming and learning apps being accepted and promoted by parents.
3 opportunities that the research highlighted
Moms are on mobile and mommy groups constantly talk and share information about all those kiddy things. Yes nutrition, fashion and education included.
Kids are on mobile and they download as well as consume content (at times branded) there is almost no India content available at this time. (especially meaningfully branded content)
If you were to ask a room full of kids 'OK. All of you who want to watch a commercial go on the left side, and all of you who want to play a game go on the right side,'where do you think everyone would go? And, in that answer lies the power of an 'always-on' brand commercial, in the attire of a great app for kids.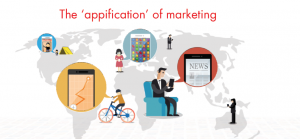 Yes there are those who find it too early, or money better spent on TV etc. But the question really is have you really considered the possibilities of what a property which is all you in the palm of your audience potentially hold?
For example a nutrition beverage for a kids brand could connect at a deeper level with its core TG via a game they could play on a smart device. The bottles could carry a QR code that helps them unlock a new level, with every bottle they consume and the brand's key USPs could be integrated into the game(more power, more protein, as a magic potion to kill the enemy and soon) and you have for you a connected strategy that leads to content, increased product consumption and repeat purchase.
Hindustan Times recently featured the research on the "Appification of marketing to kids" and how marketeers are taking up the opportunity"
A copy of the report can be downloaded HERE
---