Online reputation management forms the lynchpin of every brand and business that in turn affects its market reputation. It can make or break a brand through just a few tweets, comments, pictures and more. Thus, it becomes mandatory to monitor a brand's activities over the Internet through the intricacies of online reputation management. Besides, just when you thought you were doing it all right to enhance your brand's image, there'd be a competitor to your brand or just a third party, who would do enough to mar the image of your brand, in a jiffy. In such cases, a day through day health-check of your online activities not only helps in keeping your brand value intact, but also triggers perfect value for your brand, in terms of revenue, lead generation and more. Business organisation tends to hire an online reputation management firm to regulate their online reputation. Listed below are a few tried and tested measures deployed by the firms.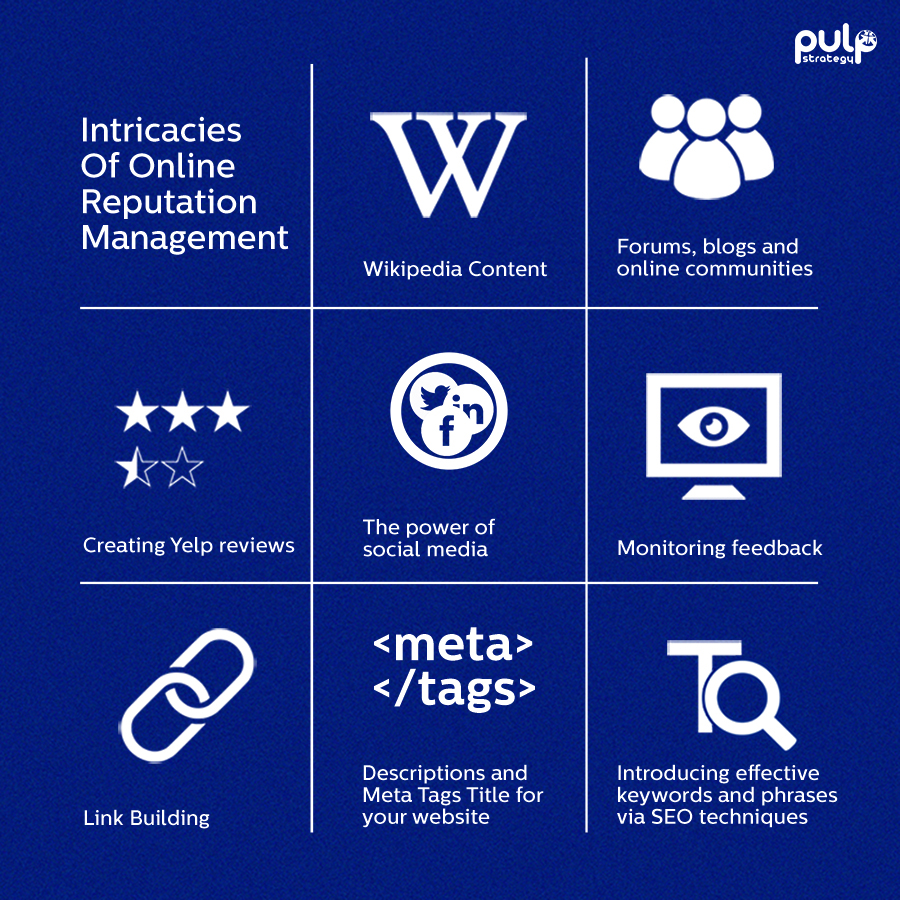 Wikipedia Content: Wikipedia content scores high on Google search engines. The content though, has to be verified, trustworthy and informative. The Wikipedia does not entertain any kind of publicity or cases of hagiography.
Forums, blogs and online communities: The reputation management companies tend to follow blogs and be a part of communities associated to the client's business. They also try to engage the audience just to draw traffic towards your website and put the ideologies and principles of your business across these forums.
Creating Yelp reviews: Yelp reviews tend to do a great deal of good to your business. However, over-advertising your brand may do more harm than good to you. Instead, try to earn valued feedback from your customers and keep the trend going.
The power of social media: One cannot berate the importance of social media in this era. Be it making good business connections via LinkedIn, following influencers on Google+, gaining followers via Twitter or accentuating business via Facebook profiles, social media is the magnum opus of online reputation. To add to the tally, to leverage your brand, it is important to keep updating on these social media platforms at regular intervals.
Monitoring feedback: Apart from updating your social media profiles daily, it is equally important that to remove the monitor feedback on such platforms. Besides, it is also important to track the sources of comments. You needn't go hard on these things. Try to solve out things with patience, in case you receive undesired feedback on your profiles.
Link Building: The link building strategy is a great way of directing traffic towards the client's website via noteworthy sources. In addition, buying links or spamming a third party website never helps the cause. Instead, try working on your own site to enhance its search engine rankings via organic links.
Descriptions and Meta Tags Title for your website: ORM companies ensure that your website is thoroughly optimised via content, meta tags, title tags and descriptions. This helps in locating your website without any hassle. However, broken links and incomplete information might just be a killjoy for your business.
Introducing effective keywords and phrases via SEO techniques: Based on what your visitors typewrite, you might want to introduce effective keywords and phrases that'll in turn help your page rank on the first couple of pages of the search engines. Based on the same, ORM companies could also formulate a content strategy, keeping in mind the prerequisites of the client.
---