The dot com bust was the big bang of the digital universe! Despite closures, many new companies set afoot in the internet arena. Equipped with better understanding, they had in front of them a mature and net savvy market. With less competition and SEO itself in its evolutionary phase, back then it was much easier to fox the search engines and be successful without in-depth details of SEO for the website.
Now, the tables have turned. Online businesses cannot take SEO lightly. Competition has intensified and search engines have become smarter, making life difficult for new internet companies trying to establish themselves. Internet 2.0 requires a fresh strategy to reinvent SEO that keeps new entities relevant in search engine results.
Here are 5 must do SEO tips that internet start-ups cannot and should not ignore.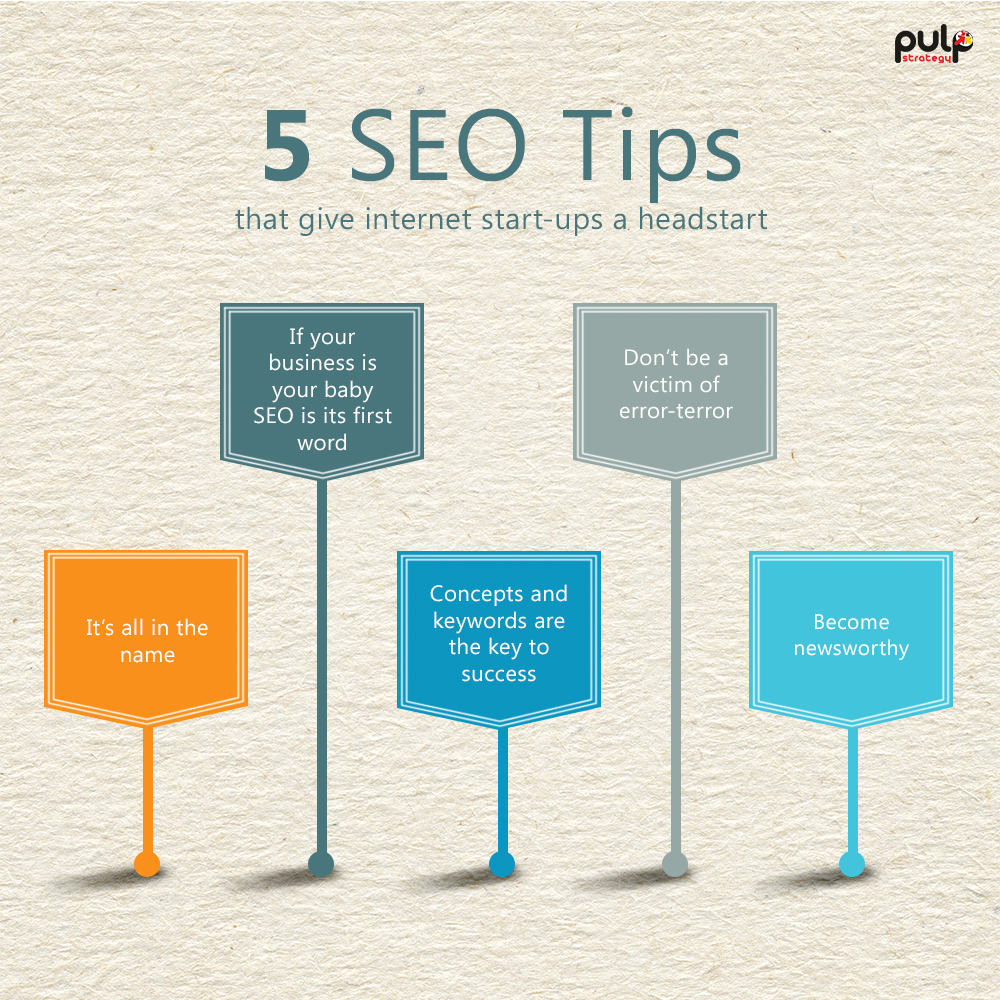 It's all in the name: Shakespeare said "what's in a name"? Obviously, he did not understand search engine optimization. For a start-up, a name is the first big investment they make. Naming your new company without much research can be hazardous, if not fatal. For example; if yours is a shoe business, 'Happy Feet' might sound like a great name but is it relevant from an online perspective? Absolutely not! With this name it will be next to impossible to top the ranks on Google since there's already a movie that dominates the market with that keyword. So, don't go for the obvious, instead, research and find a unique name that's easier to push up in the search results.
If your business is your baby, SEO is its first word: Not making a mistake is much better than fixing it. SEO best practices should be at the core of a digital marketing plan. Rather than entering keywords forcefully in the later stages, it is advisable to develop content with the relevant keywords right from the word go.
Concepts and keywords are the key to success: Your target audience might not know you but you know them like the back of your hand. Combine the nuances of your business with the tricks of the search behaviour patterns of your TG to perfect your SEO strategy. Know the search phrases, create a list and try to incorporate high volumes of keywords in your website's title-tags, meta-tags, sub-heads, and content body.
Don't be a victim of error-terror: Make your content as search friendly as possible without any errors. More errors mean more difficulty for the crawlers to crawl through your website and include it in the Google index. Check and re-check to eliminate any kind of technical or non-technical errors. Comb your website for duplicity of content and make sure the coding is flawless.
Become newsworthy: Media, these days, is hungry for innovative and newsworthy content. For a start-up it's an opportunity to showcase its uniqueness and come into the limelight. While PR makes people talk about your business, you can actually backlink all the news stories to your website. With this kind of attention, search engines will be genuinely interested in you, which means a higher ranking for you simply on the basis of your keyword selection.
Rome wasn't built in a day! However, if you use these tips regularly, your SEO rankings will go places, higher places, to be precise.
---