A rich client experience is an essential giveaway for every organization that uses social media to reach both the existing and potential consumers. The customer today expects a quick acknowledgement and resolution to his issues. This has made social media yet another important avenue for customers to reach brands.
A study by State of Inbound Marketing in 2012 revealed that social media has a 100% higher lead-to-close rate than outbound marketing. Also, a report of 2012 revealed that 77% of B2C companies and 43% of B2B companies used Facebook to acquire new customers. Another study revealed that 62% of marketers said social media had become more important to marketing campaigns in the last 6 months. This has made having an engaging social media marketing strategy imperative to business houses to retain existing customers and attract new fans that can be converted into new customers.
Thus, your brand and online reputation largely depends on the customer experience you create and deliver on social media. Following are 4 ways in which you can create engaging conversations and deliver a great customer experience on social media.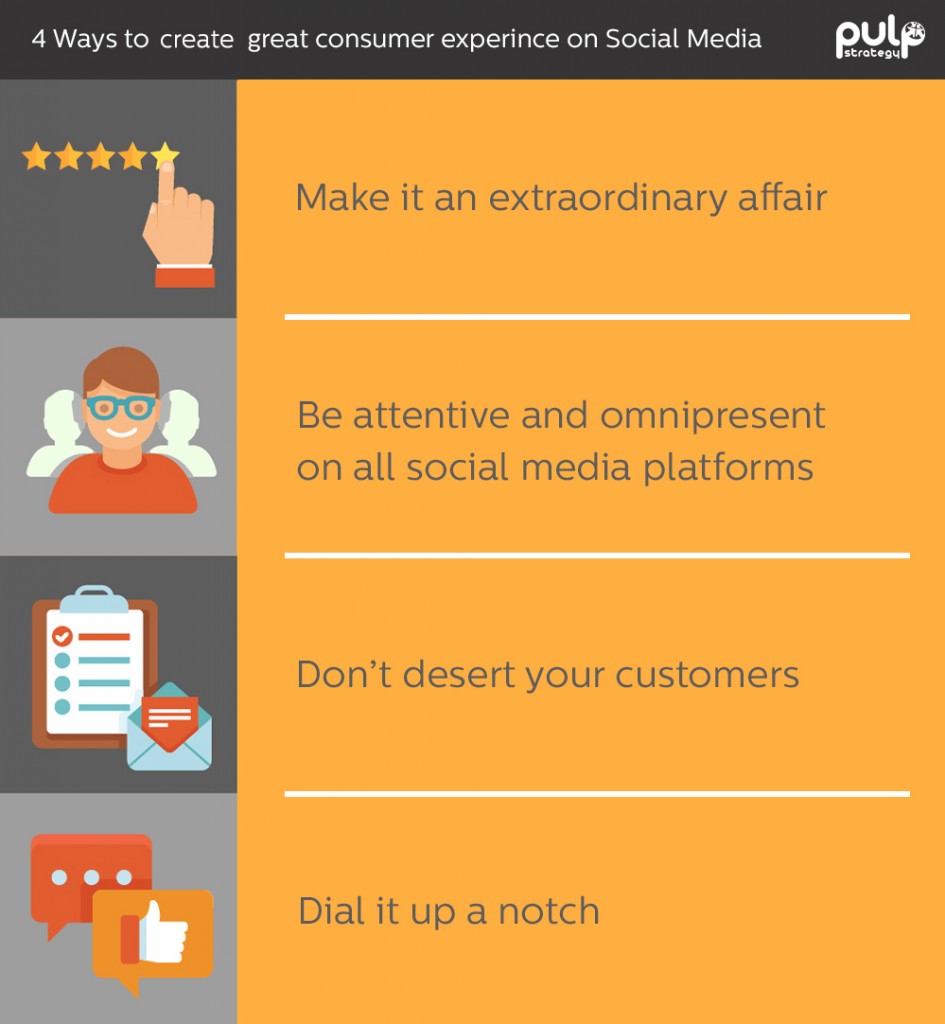 1. The extraordinary affair: Connecting with consumers in real time is a great opportunity that social media opens up. You can approach them as soon as you see the need. You can address their problems as soon as you see it. Moreover, addressing a consumer problem in public can help you establish your brand as a great after-sales service provider. Therefore, going beyond the generic ''Call us and let us solve it for you!'' with quick turn-around-time from your end can help you reinforce brand appreciation of your customers
2. Be attentive and omnipresent on all social media platforms: Conversations lose meaning when they are one way and become frustrating if the people involved in the conversation do not pay attention to what is being talked about. This is relevant to social media as well. Your customers accept your invitation to join you on social media to indulge with your brand by being a part of healthy two-way communication. It is therefore important to align your brand's mission, vision and values when you design communication that will resonate with your customers. It is also necessary to be attentive and supportive in every way possible to build lasting customer relationships. Prompt, positive attention to customer issues can help a brand build a legion of satisfied and happy customers.
3. Don't desert your customers: Customer relationships are also based on reliability, which extends beyond online conversations. You need to maintain active and consistent social media profiles to project your reliability factor. When users search for you on Facebook or elsewhere, you definitely want to be seen as a vibrant community dedicated to nurturing relationships and getting audience appreciation in return rather than a deserted page that does not have regular updates or has been inactive for a while. Visitors tend to leave a stagnant page with a notion that the brand doesn't care for its customers anymore. Hence, it is essential to focus on engaging them and not deserting them.
4. Dial it up a notch: It is always fruitful to go above and beyond to maintain the ongoing customer relationships. Monitoring all your social media platforms regularly will open up doors to opportunities you can utilize to amplify the returns for your business. It is essential to be relentlessly committed to quality customer service both online and offline. This should actually be woven into company's culture so that going an extra mile becomes a habit, where listening to and responding to customers will give you an edge over your competitors.
In the end, creating a great consumer experience is more about listening to what your consumer has to say, addressing the issue with relevant solutions or extending gracious thanks for the appreciation you earn. So, the next time you go online, these are some of the questions to ponder over- "What do I want my customers to feel?" "How am I making their association with my brand memorable?" and "Did I go that extra mile to deliver a great customer experience?" Remember, the key to delivering a superior consumer experience is to identify the wants and needs of the consumer.
---