College, they say, is the reward for surviving high school. How true! College life gives an individual his/her first true taste of freedom – Be it the freedom of individual expression, or personal style. For just outta school guys and girls, campus becomes a runway to stand out amongst peers, experiment with a plethora of styles, and look their best.

Styling is the New Shaving
There used to be a time when clean-shaven guys with wet, neatly parted hair made the cool lot at the campus! It was the thing then. A decade ago or so, the trend swayed to the other extreme, with crews of young, bearded men sweeping the campus. But today, bush trend is passe too. Shaving no more makes sense and heavy beards are just unbearable! A new styling trope has emerged – Urbane styled, well-trimmed men.
"Even sociologists agree that women are more attracted to men with a sharply trimmed stubble."
College goers are no more shying away from experimenting with their beards, goatees, moustaches and sideburns. It's a sort of grooming renaissance, so to say.
Philips wanted to not just hack that transition – but be a catalyst in making it happen.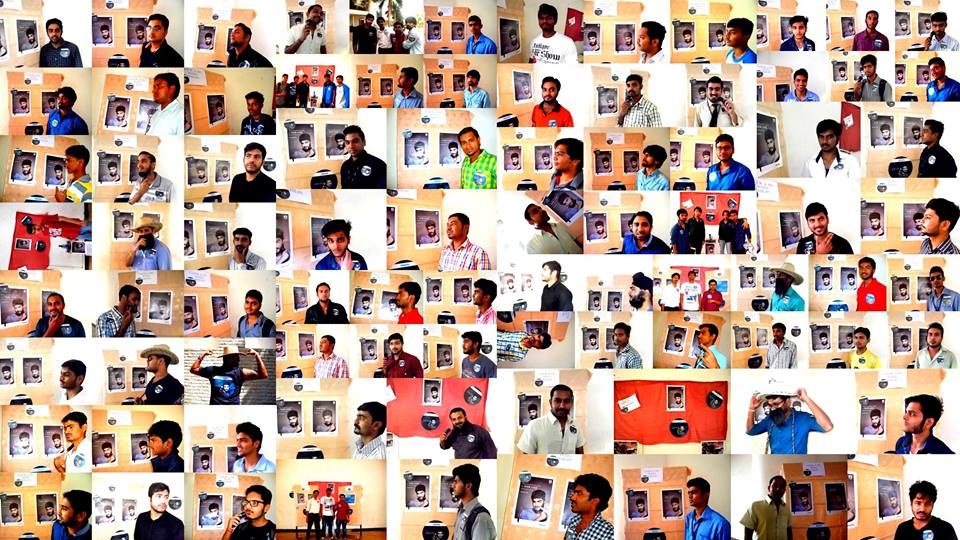 Marketing to College – No Easy 'A'
Philips wanted the coveted 17 to 25 year old demographic to become first-time users of electrical male grooming devices - Positioning its Pro Skin Advance Trimmer range as the new way to trim, edge and style.
Catching up youngsters in their formative years has its perks –They're experimental and open to new things; they're poised for becoming brand loyalists in the long run; their social media-savviness holds the seeds of virality and with billions of dollars to spend on personal grooming, they are every marketers' dream audience.
But, it has its downsides too. Marketing to college students is no easy A. As the first born-wired generation, they have turned a blind eye to the traditional media - Television, radio, and newspapers. Even in the digital realm, they are less likely to give you that 'click' compared to their older counterparts. And acting cool with them doesn't really help; they can really tell when it's not hip.
They do, however, look up to trendsetters and listen to their peers
Wooing the Wooers
Do you remember your college days? If you do, you would also remember that one guy in your campus who never tried to be cool because he effortlessly was. Probably infamous for his notoriety or fashion-forward instincts, he was mostly outspoken and always seemed to lead the wolf pack. That guy was a 'Trendsetter' or perhaps an 'Influencer'.
Trendsetters don't discover tomorrow – they drive it
Call it an itch or FOMO, people catch up how trendsetters style, speak, and act. The power of influence is huge among the college demographic and on-campus influencers can be a critical cog in driving a peer-to-peer campaign.
To ignite the competitive spirit of these trendsetters, Philips invited 225+ premier B-schools for participating in the Big Leap – A live simulated marketing challenge.
Tell me, I'll forget. Show me, I'll remember. Involve me, I'll understand.
The program challenged business students to design, deploy, and assess their own marketing acumen – on ground. In order to loop in the best minds to steer the program, guidance was provided to campuses to identify and handpick trendsetters who don't just talk the talk, but walk the walk.
Each team nominated by the campus consisted of 3 students and 1 marketing professor.
What made the campaign really interesting was the fact that the brand stayed at the backstage, getting the participants to run their own show – No strings attached. But at the same time, Philips plugged their product – Philips Pro Skin Trimmer – in the program, making it an active, dynamic part of the challenge rather than just a prop.The Big Leap challenge encouraged the campus trendsetters to experience, adopt and advocate the Philips Pro Skin Advance Trimmer - positioning it as an aspirational, cool product to own.
To help them take their best foot forward, the selected teams were trained in the nuances of marketing a flagship product. They were endowed with tools and knowledge to be able to innovate, create, design and deploy an effective product-marketing campaign – in their own unique ways.
The Big Leap Challenge – Bring It On!
The Big Leap challenge simulated the on-ground marketing dynamics wherein the young marketers became the brand ambassadors, campus became the market and the peers became the audience. The end goal was to establish the product amongst their campus communities in six stages – Research the market, launch the product, advertise and communicate, give the product experience, drive sustained advocacy and submit the case study. The campus teams with the best campaign results were to be awarded cash prizes.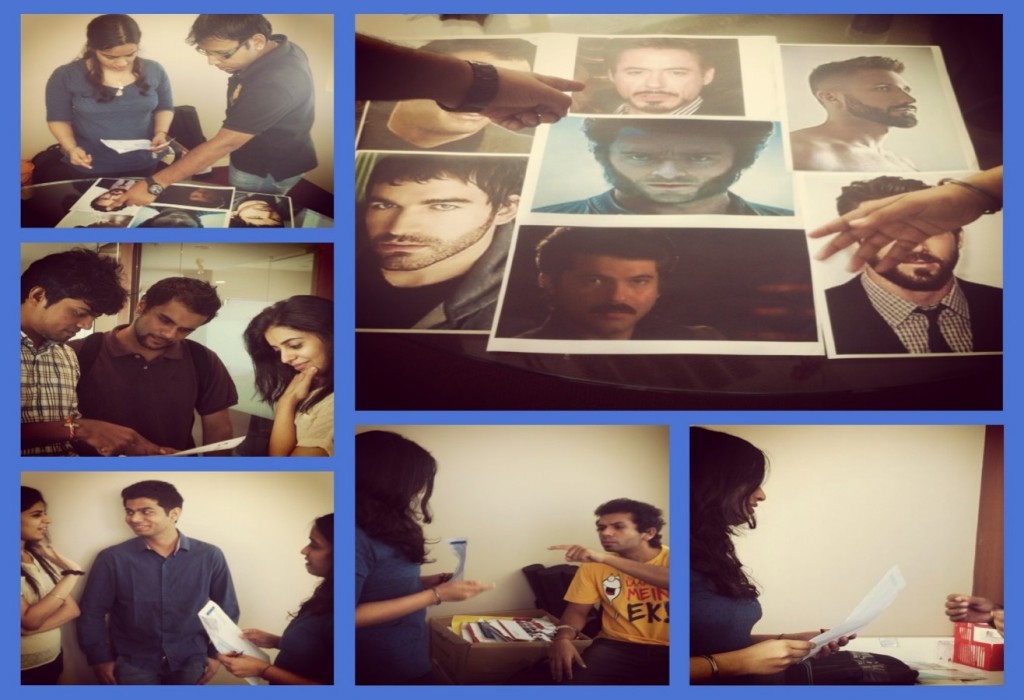 1. Research the Market
Doing the homework
The amphitheater auditorium got packed with the energetic voices of ambassadors and their bandwagon, getting prep for a group discussion and wrapping their heads around the campaign.
The ambassadors went out holding mics asking interesting questionnaires to cool gangs on the campus –
Arjun Kapoor clean shaven or bearded. What's your pick?

How frequent do you get out of your comfort zone while trimming?

Whose beard style rocks the most - Wolverine, Iron Man or Anil Kapoor?

What's your beard goal?
The in-depth research led to data-driven valuable insights and helped the contestants to gauge the readiness of the target audience.
2. Launch the Product
Ready to roll
Downstairs, outside the lecture hall, students flocked around posters and standees. One of the boys looked at the wall over the shoulder of his friend, murmuring, "I would've bought one, if only I had a bit saved from my pocket-money". "What are fathers for?" the other boy in the gang proposed, giggling.
The Big Leap contestants were supplied with 'programs in a box' – Posters, standees, stickers, direct mailers, bookmarks.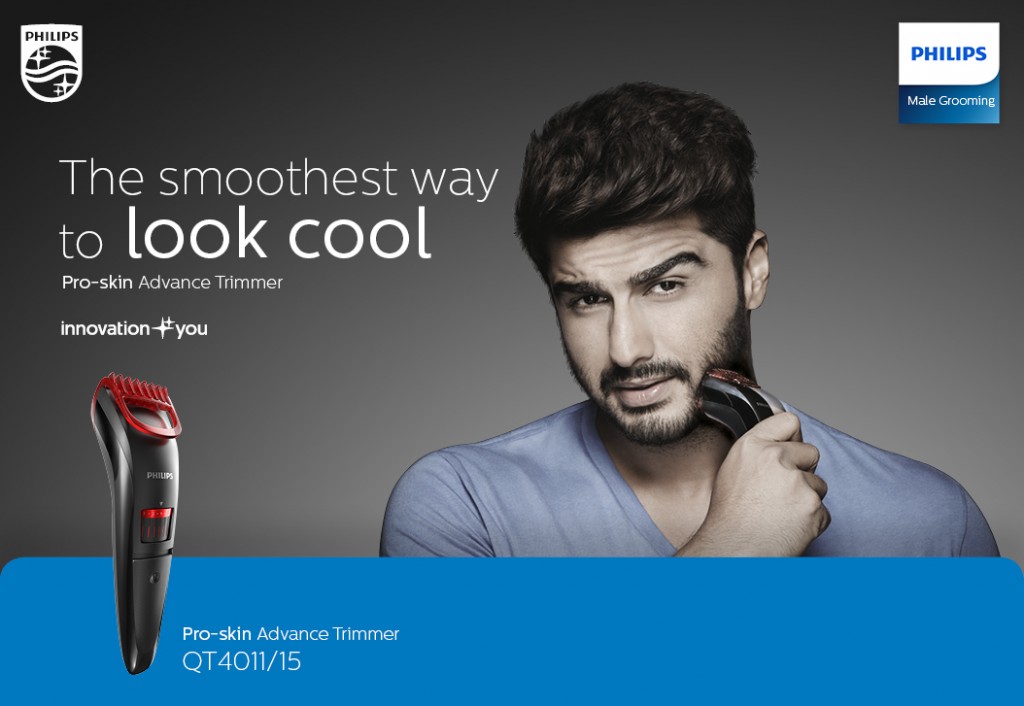 Plus, the teams were supplied with The Big Leap PlayBook that formed the blueprint of the six stages, outlining the tricks of the trade.
Social media posts for different platforms like Facebook, Google+ and Twitter were also shared at every round in the form of a Digital Kit on the Facebook application. The application made the best of both worlds - Functionality of a microsite and virality of social media.
Pre-buzz videos created hype for the product launch. On-ground 1000+ events were planned and executed by campus ambassadors. The participants were given the freedom to innovate with the marketing material at hand. The campus witnessed a wholehearted participation with footfalls that amounted to half a million people!
3. Advertise and Communicate
By youth, for youth
When endorsement comes from peers, it doesn't feel as if you are being 'sold to'. That's the secret sauce of a true P2P initiative. And that's how it went for Philips in the Big Leap. 'Beardo', a thematic and lighthearted mascot, roamed the campus, constantly reinforcing the brand and its products.
Advertising collaterals were cleverly deployed in college canteen and men's washroom.
Graphic ads were printed in college magazines. Fliers with QR codes were embedded throughout the campus, taking back users to the Big Leap microsite.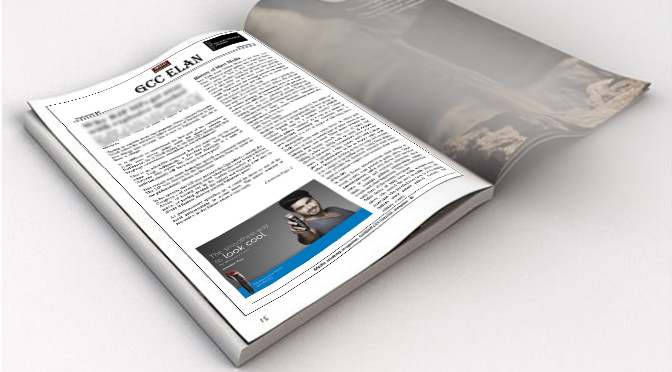 Men at campus took a pledge to live #LikeABrat. The hashtag was quite a hit, fostering organic conversations among the Twitteratis.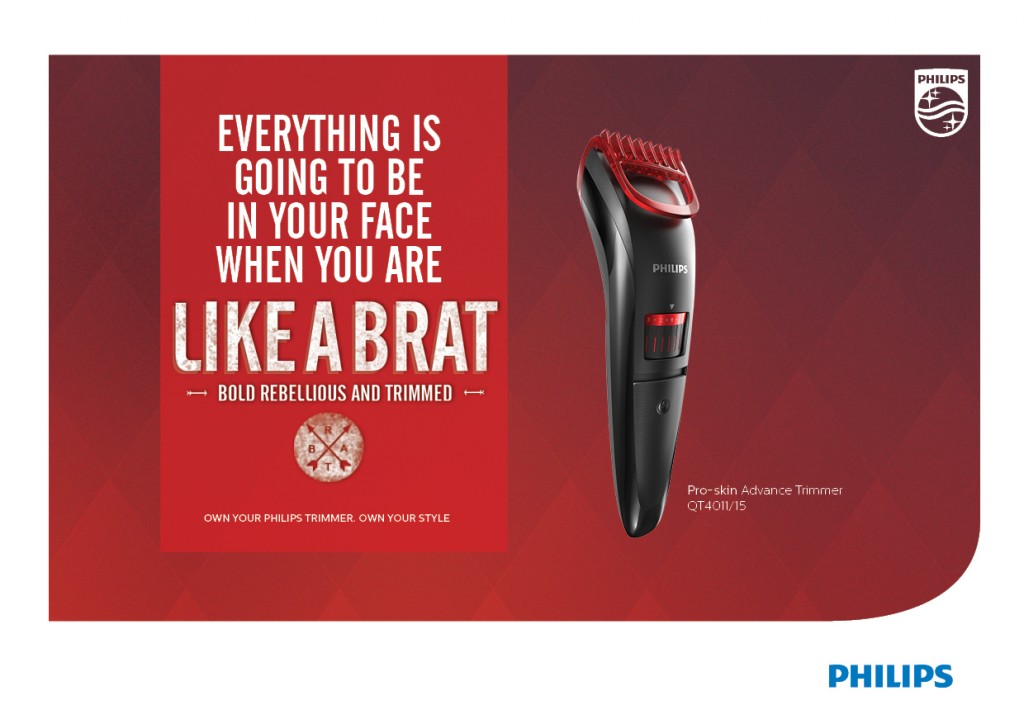 Churn the right content for the right audience at the right time. And it'll amplify – no matter what
Radio spots and in-campus programs were organized to fuel the ongoing buzz. The buzz so created whirlpooled a talented lot of Viners, YouTubers, SnapChatters and Bloggers to create worthwhile content in line with the brand. Thousands of user-generated content pieces were shared and consumed across the campuses online and off it.
4. Give the Product Experience
Time to touch, feel and experience
Fun flash mobs and serious fashion shows were arranged in college. Guys flocked in to get live trimming trials at experience pads.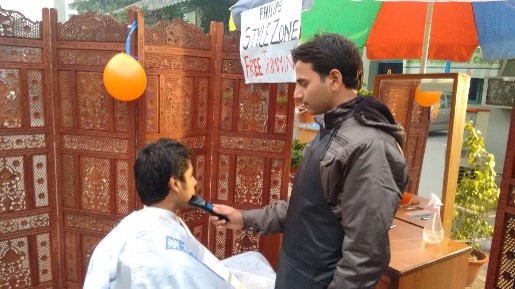 Special incentive vouchers were distributed to push sales.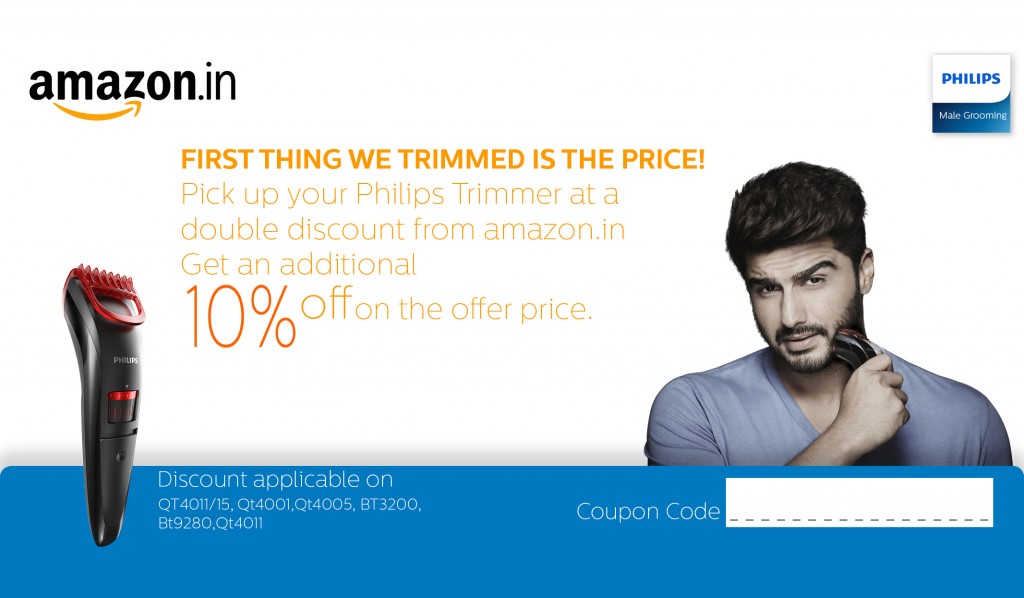 With remote mentoring from Philips, an Android app was developed by campus marketing teams. Influential tribes went out, holding contests, doling out flyers and creative prints – to invite the audience to touch, feel and experience the product, making way for further engagement.
5. Drive Sustained Advocacy
Keep up the spirit
#LikeABrat marathon was arranged with more than 500+ participants.
Stories were created and shared around interesting hashtags like #StubbleSelfie and #StyleSquad. The marketing teams partnered with NGOs taking CSR initiatives to reach out to audience in vast numbers and invite participation in a noble cause, cultivating brand loyalists and building brand affinity.
6. Submit the Case Study
Score your goal
Students took over campuses as their market and peers as their audience, eventually encapsulating their endeavors in a comprehensive case study, submitted at the end of each round. The Big Leap challenge was fine-tuned to achieve concrete goals for the brand, in terms of brand awareness, product trials, traffic, engagement score and lots more. The case studies that were most complementary to the campaign goals in terms of tone, reach, and audience were shortlisted.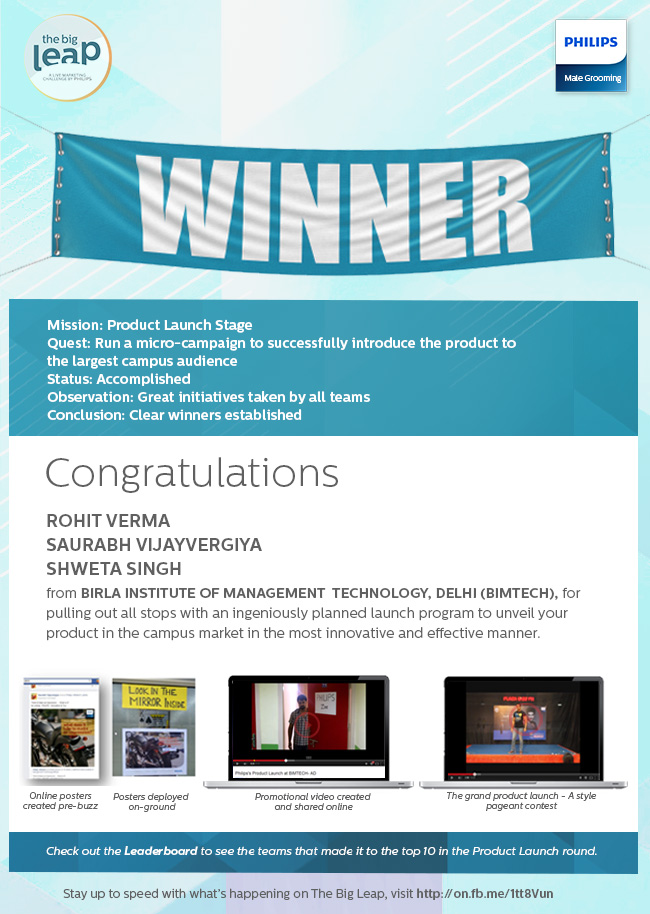 ... And Everybody Wins!
Making the best of peer-to-peer and traditional marketing, the campaign turned out to be disarmingly brilliant, taking the product to an audience that couldn't be reached by conventional means. And at the end of the game, everybody won!
The campaign amplified and generated visibility among 5 million+ people on online and off-line platforms. It generated more than 25,000 user-generated content pieces shared on social media, over 100 team pages, and 300 in-house videos. A plethora of trimming trends were disseminated at warp speed, traversing campuses.
Ta-da: It became a trending phenomenon.
Through a first-hand experience, budding marketers got to delve into the fine nuances of marketing. They got to prove their mettle, stand out amongst their peers and represent something bigger than them. The participating teams – Or campus evangelists as we like to call them – were awarded cash prizes and certificates.
Mashing up digital + physical worlds created experiences that the audience simply loved and couldn't stop talking about. Like a scandalous secret, the word spread organically online and off it – establishing Philips Pro Skin Advance Trimmer as the first choice 'To get the cool macho look that you want'. Most importantly, Philips made an impact – much bigger than they would ever had by flashing a few ads.
Client: Philips
Product: Pro Skin Advance Trimmer
Agency: Pulp Strategy
Category: Peer-to-peer marketing
---