As 2022 is coming to an end, it's time for businesses to plan their marketing budget for 2023 and according to experts, email marketing campaigns are a critical part of successful marketing strategies going forward. Is your brand implementing the right B2B email marketing strategies?
B2B email marketing is one of the most effective ways to reach out to potential and existing customers. It is a direct way to communicate with your target audience, and it allows you to track results so that you can gauge the success of your campaigns.
When done correctly, B2B email marketing can be a powerful tool for driving sales, fostering relationships, and growing your business. HubSpot suggests that there are 4 billion daily email users and according to Statista, this number is expected to jump to 4.6 billion by 2025.
However, as with any marketing strategy, there is a right way and a wrong way to go about it. In this guide, we'll show you how to do email marketing the right way so that you can maximize its effectiveness for your business.
How to Build an Optimized Email Marketing Campaign
Building an optimized email marketing campaign involves more than just developing a list of subscribers and sending them generic content. In order to maximize the effectiveness of your email marketing, you need to take steps to ensure that your campaigns are targeted, relevant, and engaging.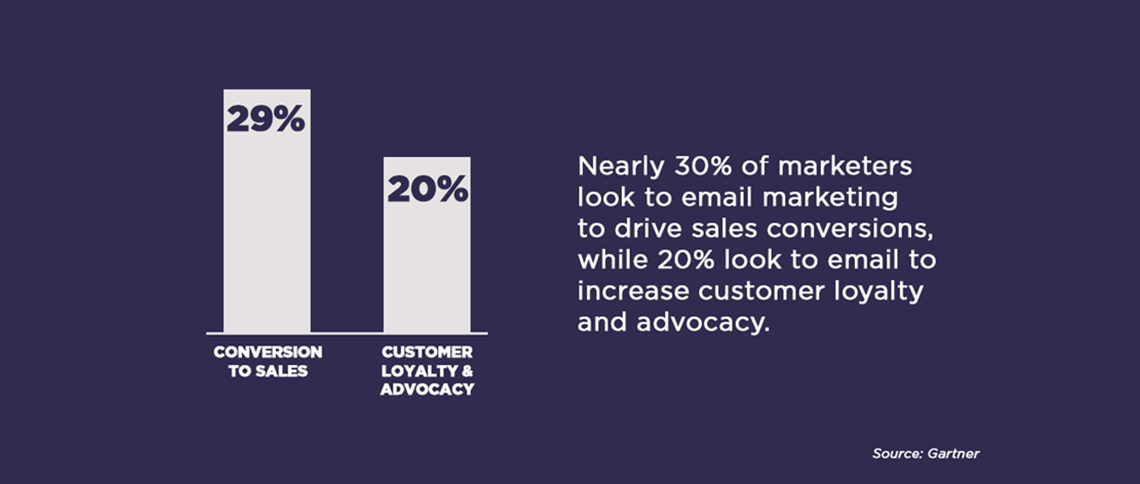 Here are some tips for building an optimized B2B email marketing campaign:
Develop a targeted list of subscribers
According to HubSpot, the most effective strategy for email marketing campaigns are subscriber segmentation (78%). The first step to building an optimized B2B email marketing campaign is to develop a targeted list of subscribers. This means that you need to segment your list based on factors such as location, age, gender, interests, and purchase history. By segmenting your list, you can ensure that your campaigns are more relevant and engaging to your subscribers.
Create relevant and engaging content
Once you have a targeted list of subscribers, you need to create content that is relevant and engaging. This means creating email campaigns that are targeted to the interests of your subscribers. In addition, your content should be engaging and interesting, so that your subscribers will want to read it. As per CMI, 81% of B2B marketers say their most used form of content marketing is email newsletters.
Test and measure your campaigns
After you have developed a targeted list of subscribers and created relevant and engaging content, you need to test and measure your email marketing campaigns. This means using tools such as A/B testing to determine which elements of your campaign are most effective. By testing and measuring your campaigns, you can make changes and adjustments to ensure that your campaigns are as effective as possible.
Top Industries That Lead B2B Email Marketing
B2B Email marketing is used extensively by businesses in a wide range of industries in India. Some of the most popular industries that use email marketing include:
Manufacturing
IT and software
Banking, financial services, and insurance (BFSI)
Retail
Healthcare and pharmaceuticals
Media and entertainment
Telecom
Automotive
Food and beverage
Travel and hospitality
These are the top 10 industries in India that lead in B2B email marketing. These are based on several factors such as open rate, click-through rate, unsubscribe rate, and complaint rate to determine which industries had the most successful B2B email campaigns.
While all of these industries had success with their email campaigns, there were some standouts. Manufacturing had the highest open rate, while IT and software had the highest click-through rate. Banking, financial services, and insurance had the lowest unsubscribe rate, and healthcare and pharmaceuticals had the lowest complaint rate. Overall, these industries are doing a great job with their B2B email marketing campaigns.
The Future of B2B Email Marketing
The future of B2B email marketing in India is very exciting. With the growth of the internet and mobile penetration, more and more businesses are now turning to email marketing to reach their target audiences.
This trend is being fuelled by the fact that email is an extremely cost-effective way to reach a large number of people. In addition, email allows businesses to target their messages very precisely, ensuring that they reach the right people at the right time.
As the use of B2B email marketing grows in India, we can expect to see some very innovative campaigns being launched. This will be driven by the need to stand out in an increasingly crowded marketplace.
So, what can we expect to see in the future of B2B email marketing in India?
Increased use of personalisation
As the competition for attention grows, businesses will need to find ways to make their emails stand out. One way to do this is to increase the use of personalisation. This could involve using the recipient's name in the subject line or tailoring the content of the email to their specific needs.
More use of video and images
With the increasing popularity of social media, we can expect to see more businesses using video and images in their email campaigns. This will help to grab attention and make the message more engaging.
Greater use of automation
As email marketing becomes more sophisticated, we will see greater use of automation. This could involve sending triggered emails based on recipient behaviour or using artificial intelligence to optimise email content.
Improved tracking and reporting
As businesses become more data-driven, they will demand better tracking and reporting tools from their email marketing providers. This will help them to fine-tune their campaigns and get the most out of their investment.
More focus on mobile
With more people now accessing their email on mobile devices, we can expect to see a greater focus on mobile-optimised emails. This could involve using shorter subject lines and smaller images to improve the experience for mobile users.
Bottomline
B2B email marketing is an incredibly powerful tool—but only when it's done right. This guide has given you all the information you need to get started with B2B email marketing, from planning your campaign to creating compelling content. Now it's time to put what you've learned into practice and start driving real results for your business! If you are not sure where to start, get In touch with Pulp Strategy, one of India's leading B2B marketing companies.
---