Increasing smartphone usage and lowering data and broadband charges are bringing millions of Indian into the digital fold every month. As a result, the consumption of online content is growing leaps and bounds in the country. All this has led to the distinction between content and promotional advertisements getting blurred quickly.
In such a rapidly changing marketing landscape, influencer marketing is increasingly getting mainstream and consumers have a right to know which content is paid for by the brands. The ASCI guidelines for influencer marketing is aimed at bringing this much-needed transparency. Developed after widespread consultation with influencers, brands, consumers and marketing experts, these guidelines lay a strong foundation for safeguarding the interests of influencers, marketers, consumers and the advertising industry.
ASCI has partnered with the Reech Influence Cloud Platform, which employs advanced technologies such as AI to detect a lack of disclosure in social media posts of a commercial nature. It will use Machine Learning or ML algorithms and pattern searching Regex (Regular Expression) to ensure enhanced accuracy of spotting such violations.
As a marketer, you must be wondering how these guidelines will help you promote your products and services among your target audiences through influencers and win their trust and loyalty. Here's all you need to know about what these guidelines entail.
Requirement for making disclosures
Influencers' content needs to carry a disclosure label that clearly identifies it as an advertisement if:
There is any material connection between the advertiser and influencer. Material content not only includes monetary compensation but also anything of value given to influencers to talk about an advertiser's offerings like free or discounted products or services or other perks.
Influencers' evaluations are unbiased, but there is a material connection between Advertiser and Influencer.
How disclosures should be made
As per the ASCI guidelines, disclosures should be made in such a way that there's no chance of an average consumer missing them. In line with this:
Disclosures shouldn't appear on About Me or profile page, bios, at the end of videos, hashtags or anywhere that requires consumers to click on a button to reach.
The use of a platform's disclosure tool is recommended in addition to an Influencer's own disclosure.
The disclosure label should be superimposed over picture/video in Instagram Stories and Snapchat to ensure that the average consumers can see it.
The disclosure should be made in English or the language of the advertisement in such a way that a consumer can easily understand.
A virtual influencer is required to additionally disclose to consumers that they are not interacting with a real human being.
Permitted disclosure labels
Influencers can use one or more of the permitted disclosure labels based on the type of association with the advertisers. These labels are:
Advertisement
Ad
Sponsored
Collaboration
Partnership
Employee
Free gift
Disclosure in audio-visual media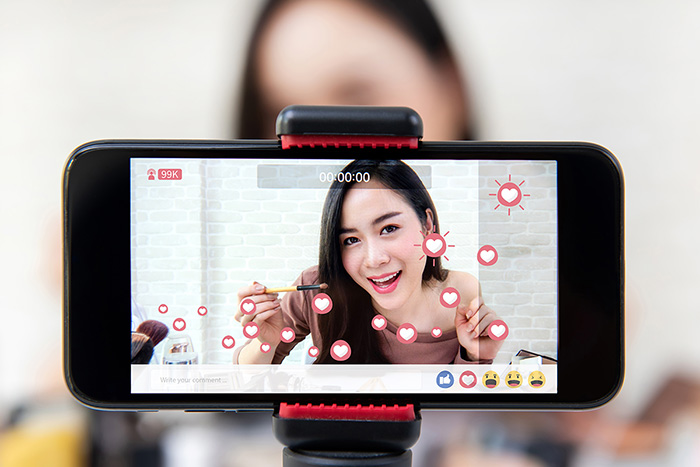 Videos
The disclosure label in videos must stay:
For a minimum of 3 seconds in 15 seconds or shorter videos.
For one-third of the length in 15 seconds to less than 2 minutes long videos.
For the entire duration of the section wherein a promoted brands or its features or benefits appear.
Live streams
Influencers need to put a disclosure label during live streaming at the beginning and the end of the broadcast. If the content remains on their social media handles post the live stream is over, an appropriate disclosure should be added. For audio media like podcasts, the disclosure should be announced at the beginning and at the end, and before and after every break.
Here's how we did an Influencer Marketing campaign for Avon recently, which was somewhat in tune with the new ASCI guidelines.
Avon Influencer Marketing Campaign
Our recent influencer marketing campaign for Avon was aimed at promoting its skincare and fragrance range. Some of the influencer marketing guidelines that we followed included #AD at the beginning of hashtags and Sponsored Post disclosure at the post's title for business profiles.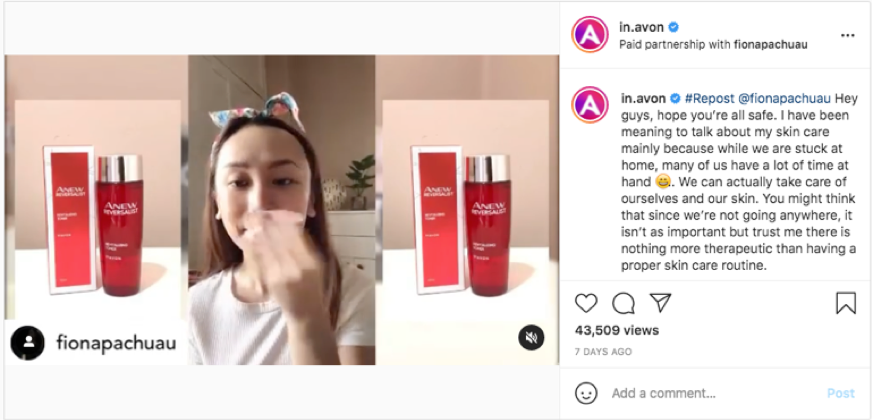 The new ASCI Guidelines for Influencer Marketing is the right step in the right direction. With influencer marketing proliferating, brands are associating with many macro and mini influencers to influence consumers and lead them to take desired actions. A codified system of disclosure in such a scenario will serve the interests of all stakeholders.
---