The COVID-19 pandemic has brought a paradigm shift in the way the business was being done for ages. With social distancing measures likely to be in place for a long time due to the slow pace of vaccination globally, most of the interactions of brands with customers are likely to occur on digital platforms in the foreseeable future. This has significantly increased the need for offering a fantastic customer experience and valuable content online. In short, brands need to engage their customers successfully and provide them with content to help solve their problems to achieve business success in 2021.
As customer events are ruled out in the near future due to social distancing requirements, it is imperative for B2B companies to have a robust content marketing strategy in place to engage their potential customers, generate leads and ensure higher conversions. Here're 7 reasons why B2B companies need a well-thought content marketing strategy in 2021.
1. Enhance engagement with target audiences
It's the need of the hour for B2B brands to transform customer reach into actual conversions. In line with this, they need to create content that can solve the problems faced by their prospects, results in meaningful interactions, and generate more traffic, revenue and sales. Moreover, it is crucial to ensure that the content is visible or accessible to the target audiences it is meant for.
2. Ensure content relevance
Content creation involves time, money and effort, so B2B brands must create content that remains relevant and visible to target audiences for an extended period. Such evergreen content will not lose its relevance in the short term but always be topical and relatable and continue to engage and attract users. This means that limited content involving news reports, statistical trends and seasonal topics should be created.
3. Create content for the buying journey
B2B brands need to create a customer journey based on their Customer Experience (CX) strategy. Diving into the problems of their target audiences and how their products/services will solve them, they should define the buying cycle. The content pieces should be created to fit into each section of the buying cycle, namely, Awareness, Consideration and Conversion. Also, the content should be developed for every touchpoint defined in the CX strategy – landing pages, product pages, email marketing, social media posts, etc.
4. Create connections through blogging
A blog is a great way to reach out to and connect with target audiences. B2B brands can create blogs to advertise and promote their products/services, build brand awareness, generate leads, fuel sales, and create a differentiated and easily recognizable brand image. These blogs can be on various topics such as changing industry/technology trends and how their products/services fit into them, how to use a product or a service, etc. Well-written blogs with the right keywords can help B2B brands reach their target audiences with the content they need to build lasting relationships with them.
5. Realize a better ROI
Content development takes time, money and effort. A carefully developed B2B content marketing strategy can deliver excellent results and enhance the Return on Investment.
Check out we helped SAP India reach out to their target audiences with the right content
SAP India organized Innovation Summit 2020, a series of webinars featuring cutting-edge solutions developed by the SAP Partner Ecosystem to help meet the challenges posed by the Covid-19 pandemic by various industries. 15 startups showcased their solutions developed for 5 industries - Consumer, Discrete Manufacturing, Energy and Natural Resources, Pharmaceuticals and Service.
We developed a campaign to market the Innovation Summit 2020 on-demand webinars, which included blogs, LinkedIn InMails, LinkedIn Single Image Ads, Emailers and web banners.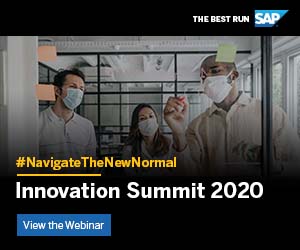 LinkedIn InMail Creative
LinkedIn Single Image Ad
A carefully planned content marketing strategy for a B2B brand based on customer pain points and his buying journey can go a long way in spreading awareness, generating leads, ensuring higher conversions and realizing a higher ROI. B2B brands should also develop a wide array of content for different touchpoints to engage prospects with a unified messaging.
---