Engaging your consumers with great content has to be a well thought out marketing tactic. We have shared this nugget with you time and again. Content marketing is the best way to not just engage with your consumers but also to share expert knowledge with them so that they can take a more informed and favourable purchase decision. It's one of the prime reasons why, commercially, content marketing has been sighted as the most important digital marketing trend in 2015.
It is needless to say that for effective content marketing your content needs to be flawless, interesting, and interactive so as to establish connect and drive engagement with the audience. A content marketer needs to understand the product, client requirement, and demographic and psychological profile of the target audience. Another important aspect of content marketing is to keep a check on what you are about to publish. A glaring mistake can mark your digital reputation, which could prove difficult to fix.
To avoid mistakes and to ensure error-free publication of the awesome content that you create, we suggest you keep the following checklist handy at all times.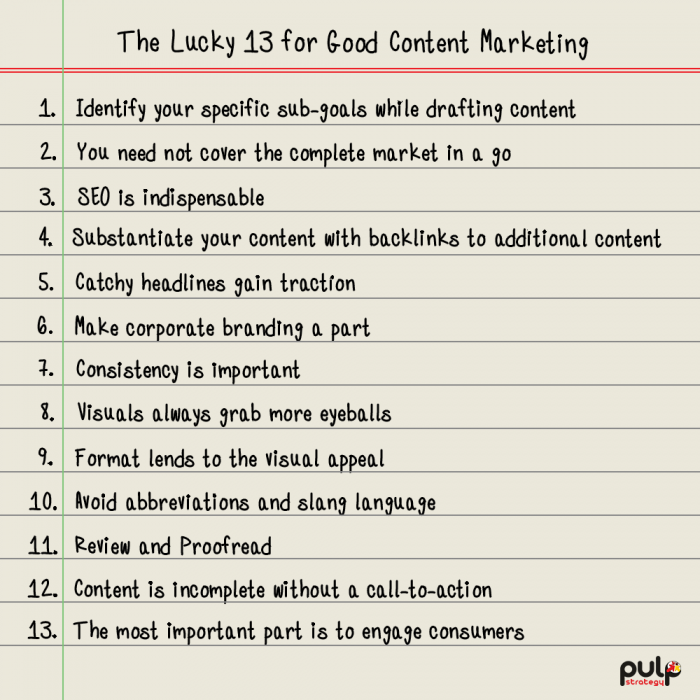 Identify your specific sub-goals while drafting content: The ultimate goal of your marketing strategy is to achieve your business objectives. Hence, you must align your content in order to meet the sub-goals that automatically help you complete the bigger picture. For example, if your business goal is to increase the footfall at your restaurant, then your content marketing should revolve around creating content that promotes the good food that your serve.
You need not cover the complete market in a go: It is not mandatory to reach your entire market in one go. You can bifurcate your audience and speak to specific groups at one point in time. It is good to become medium-specific as per your brand positioning and social media persona, to reach the groups you are micro-targeting.
SEO is indispensable: It is healthy to enrich your blog or article with a couple of keywords and search phrases to enhance your findability on search engines.
Substantiate your content with backlinks to additional content: To fulfil your SEO goals, linking your blog or article with other pieces of content that you have created is a good idea. These links could take your reader to product information, or offer a more elaborate explanation about the subject. It is absolutely healthy to share links of third-party sites. And it is healthier if you associate these links with related keywords in your content.
Catchy headlines gain traction: Headlines is what helps the reader decide whether or not they should read an article or blog. Hence, having a catchy headline will help you generate more traffic. Incorporating a target keyword near the beginning of the title will serve as cherry on the cake.
Make corporate branding a part: Take every piece of content as an opportunity to enhance your brand positioning and to establish your professional expertise. You can use various elements of your brand-building content, especially on social platforms, to polish your overall brand identity. You need to see beyond your logo, and talk, act, and engage with your audience.
Consistency is important: In this digital era, where people informally connect with one and all to share anything and everything, you, as a brand must take on a personalised approach to reach your audience. The tonality of your content must create an illusion of one-on-one human communication. While doing this keep a check to ensure a consistent voice on all platforms, regardless of who is creating the content.
Visuals always grab more eyeballs: Including visuals, preferably photographs, help in getting you more readers. Images with human faces maximise the impact, while bland stock photography kills the essence many-a-times. Make sure that the images used are not copyright protected for commercial use.
Format lends to the visual appeal: Formatting is important as it makes content visually appealing and also enhances the readability of the content. Make sure that the formatting makes your content easy to read and scan across multiple devices and screen sizes to reach maximum number of audience in a go. It has been seen that left aligned content with distinct headlines and sub-heads, and bullet points is liked and a more preferred format.
Avoid abbreviations and slang language: Using foul language can damage your brand image forever. It is therefore best avoid any profanity and adult language unless your brand identity demands it. Instead, creating content that quickly grabs the reader's attention is the winning approach to content creation. If finding the right words become difficult, consider using photographs or sign language, which will make your content visually more intriguing and appealing.
Review and Proofread: We know that word processors have spell and grammar checkers, and we also know that they don't catch everything. It is therefore, a healthy practice to check your content and ensure consistent grammar, remove spelling errors and double-check the content against a style guide as per the content channel you are using.
Content is incomplete without a call-to-action: All the communication that you draft in your content piece has an objective. You want your user to take a specific action after reading the content that you have shared. It is hence, a good practice to incorporate a call-to-action in your content piece. Assess whether your article should explicitly direct the consumer to take the next step or indirectly induce them to do so, and take a suitable route to bring out the call to action.
The most important part is to engage consumers: If your content piece is such that it demands interaction with the consumer, then you must include a question for readers and ask them to share their views in the comments section. If you want to expand the conversation, support your article with social media buttons to make it easy for the audience to share it on their social media handles. This will not stump your readers, rather, it'll get more people involved in your content related conversations – the number might be small, but the effect is massive.
The connected digital world requires more than just concentrating on writing out the content. It requires creating compelling content that drives action. To achieve this you definitely need to pay extra attention to the minutest details. We hope this checklist helps you do that. We wish you brilliant moments of content marketing.
BTW, the checklist is open if you have more pointers to add. And for any content or marketing related issues you can always drop us a line at strategist@pulpstrategy.com
---