What will the verdict be?
Tired of being exploited over the last few years, on 5th July 2018, Influencer Marketing decided to file a defamation case under section 499 and 500 of the IPC against Modern Marketers. The case has been in the limelight and we have been following it keenly and so has the rest of the advertising and marketing community. According to latest updates, the final trial of the case was held today and the verdict will be out on the 24th of September.
If you haven't been following the case, here's a quick summary of the turn of events.
Appeal for dismissal of the case
On the grounds of false accusation, Marketers appealed for dismissing the case. Presenting their argument, Influencer Marketing alleged that Marketers make use of wrong strategies and then blame it for average results. Influencer Marketing also claimed to have suffered mental trauma as other potential Marketers are losing trust on the medium.
In defense, Marketers held Influencer Marketing responsible for stealing their budgets and not delivering results, as promised.
The jury decided to let the case go for trial under section 499 and 500 of the IPC as both the parties had valid evidence and profound allegations.
Hearing 1 – Allegation: Marketers choose just any influencer
According to the plaintiff, even after repeated warnings, Marketers continue to randomly choose influencers for their campaigns. This has seriously impacted the results in the past and continues to tarnish the reputation of Influencer Marketing. Contrary to what people think, it is not that simple. Brands just cannot pick an influencer in their niche and start pumping in the promotion budget. If they do that, a lot of money would be wasted only to end up with an unsatisfactory result.
There were many instances when the defendant objected, but due to admissible proofs against them, the same was overruled.
Hearing 2 – Allegation: Picking cheap promotional opportunities
The prosecutor alleged that the defendant in many cases has resorted to poor choices of influencers just because they were the cheaper available options. Most Marketers assume that Influencers will work for exposure or free product samples. That is not true!
Influencers have a lot of power because their followers want to be more like them. Hence, they are capable of introducing and promoting your brand to a new set of audiences. If you are willing to pay for any other ads that promote your product, why be cheap with influencers?
This allegation also went unchallenged by the defense lawyer.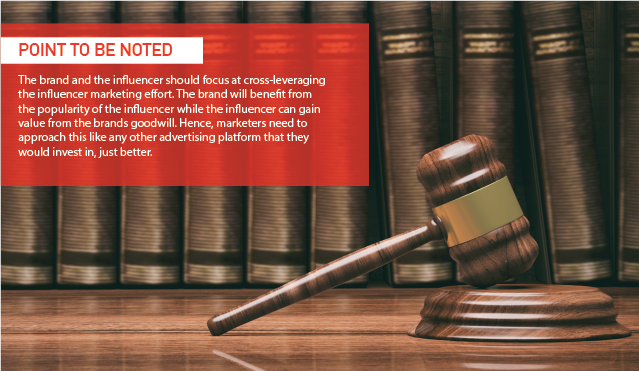 Hearing 3 - Allegation: Ambiguous measuring parameters
When questioned about the measuring parameters, the defendant seemed confused. They accused the plaintiff of false promise in terms of ROI and presented certain proofs. While the prosecutor objected, considering probable facts, it was sustained and the party was asked to submit a proof of innocence in the next hearing.
Influencer Marketing has a lot to do with brand building and pushing sales, and sometimes this fact gets hidden by all the numbers thrown to show engagement. Having a clear campaign based objective can help brands in channelizing their Influencer Marketing effort. Many cases were presented to prove the Marketers' ambiguity while defining goals and measuring results.
It was found that be it marketing goals like followers, engagement or sales goals, Marketers have lacked a focused approach in their strategy.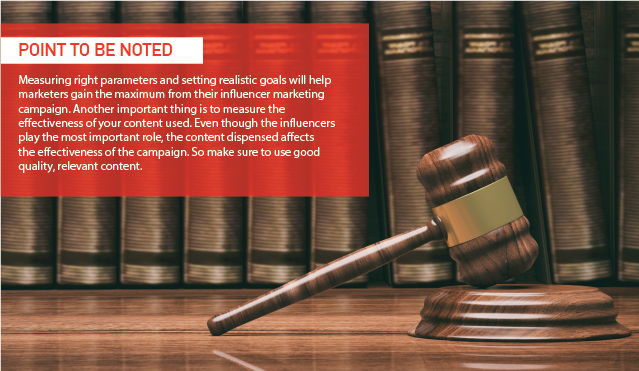 The defense rests the case
Just when the case seemed to be an open and shut one, the defendant took up to the stand to present their final arguments to the jury. They admitted to the said allegations and explaining their situation, pleaded for mercy. According to them, Influencer Marketing is comparatively a new platform and it would take some time to get it right. Meanwhile, they requested for co-operation and agreed to learn more on the nuances of the medium.
Though the jury is yet to pass a verdict on this case, the recent turn of events has opened up the possibilities of an amicable out-of-court settlement. No one can say who really is to blame for getting digital Influencer Marketing wrong. But we hope that both the parties can sort their differences out, understand each other's needs and work towards building a mutually rewarding relationship.
---