You know the content you have published is good when it drives engagement and brings in a bag full of quality leads, and ROI. Everything that you publish from a text post to a video series says all about your brand. So what are you conveying? Here's a little guide to which consists of not just eye-catching designs but also relevant content in the form of regular updates, informative articles, interactive blogs, interesting videos and much more.
All through 2015, keeping your focus on some key content types to create a buzz about your brand and content in the digital universe will keep you ahead of competition. Videos should definitely be an essential part of your strategy this year. Even the facts say so. An average website user spends 88% more time on a website if it has a video and visitors who watch video are 85% more likely to buy your products than visitors who don't. Also, 46% users say that they are more likely to search about a product if they watch a video. That's the kind of impact of video on your consumers! Studies also tell that 74% of all internet traffic will be video centric by 2017. Statistics indicate 52% of marketing professionals worldwide say that video content brings in the best ROI. Clearly, videos are essential to reach the masses.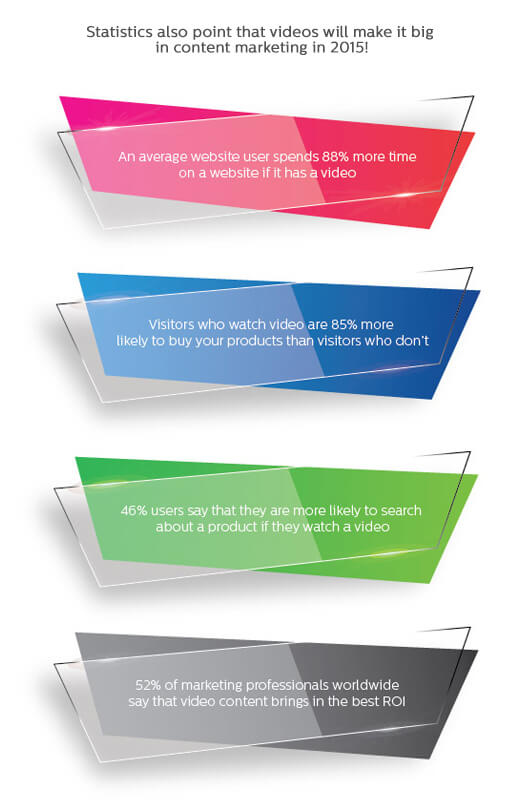 Infographics that have recently become people's favorite are next on the list of content 'must-haves'. Offering oodles of information, an infographic saves the reader from the pain of going through tedious, long-winding text, in a format that is easy on the eyes and does not bore them to death. For the same reason, the use of infographics has increased from 51% in 2013 to 62% in 2014. Studies show that production increases by 1% everyday and there are approximately over 13 million search results for 'Infographic' on Google. Also, it is expected that marketers who use infographics will grow traffic on their page by 12% as compared to those who don't. Furthermore, infographics are a marketer's favorite too for establishing the publisher as an expert with comprehensive understanding of the subject. Only recently a recent study also revealed that 40% of people perceive and respond to visual messages better than plain text.
Fortifying your a good website with great content will be indispensable to your business today. Since, 75% users say that they make judgments about a company's credibility based on their website and 85% of B2B users check the website of a company before making a purchase decision, the content published on your website must present you as a leader who is updated about current trends in the market. While you're at it, make sure that the content published is optimized too because without content optimization your users won't be able to reach you and your efforts of writing and publishing good content might go to waste.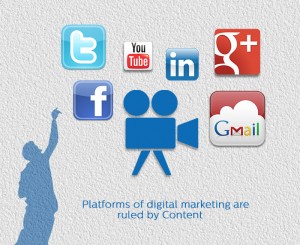 Go omnichannel with your content since audiences want a connect between content seen on various channels and platforms. Going further, you need to invest on native advertising as well. With marketers expected to spend more than $4.3 billion on native advertising, you cannot afford to ignore this. Instagram also needs a considerable space in your digital plans for the year because 42% marketers have already planned to use this 200 million strong user base. LinkedIn will be another important digital B2B marketing channel in 2015 with 88% users already geared up to use it.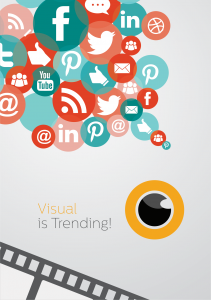 The year ahead promise to be picturesque, lead by visuals on major social media handles as well. Surveys reveal that image posts on Facebook gets 53% more Likes than the average post. While, a 28% upward trend has been seen in retweets on posts with video and 35% on posts with images. Ensure that your social channels are integrated and plugged-in to your website as well. Blogs, articles, email newsletters, microsites, and webinars will also form a chunk of your digital marketing plan 2015.
With these market insights and a dash of innovation, go ahead and create some cool content that attracts your target audience, and is useful for them. Publishing impressive content will go a long way to engage them and ultimately get some more business. At least that's what the stats say – content marketing generates 3 times as many leads as traditional outbound marketing, but costs 62% less.
---