By popularizing terms like 'food porn' and 'selfie', Instagram is creating a space for itself as one of the most used social media platforms today. With the number of users crossing the 300 million mark in a short span, Instagram is all set to be a trendy social media platform in times to come. Ever wondered what is making Instagram so popular? What is so different about this trending social media platform? And how can you use it to benefit your business?
Each social media has its own style and characteristics, for example Twitter as a platform gives you 140 characters to express yourself and Vine gives you 6 seconds video power, while Facebook is a medium that has no such limits except the 5 grid text limit on the images you share. Similarly, Instagram is characterized by square images. Everything on Instagram is square and all that you share, photos or videos, have to be square. At the same time, Instagram also gives you the freedom to showcase your creativity with square images and videos. The world is thus a big square in Instagram.
Following are the 5 reasons that will tell you why Instagram should be an important part of your digital marketing strategy: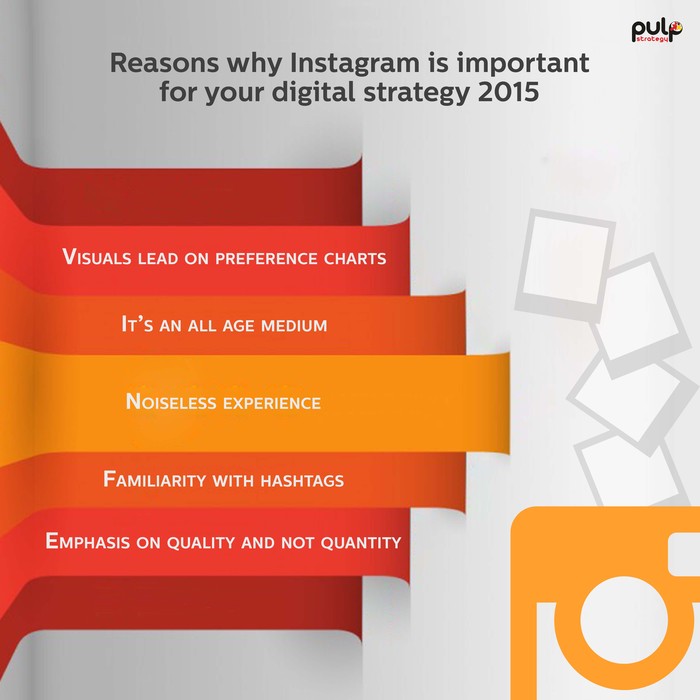 Visuals lead on preference charts:

Instagram as a visual medium lures more users. Audiences enjoy visuals not just because they are more appealing but also because they send across a message more clearly as compared to text only. Further, 2015 has been marked as the year of visuals and Instagram is all set to rock it with its great photo, visual and Hyperlapse feature mix that you can use to your advantage. Instagram is a repository of almost 70 million photos and videos on a daily basis already, which makes it a great place to market your brand. Thus, including an engaging Instagram strategy in your digital marketing plan will help you drive engagement and maximize ROI.
The all age medium: Unlike Snapchat, which is a medium for teens and LinkedIn, more popular for working professionals, and many other social media platforms, which cater to a particular set of audiences, Instagram is a medium that caters to one and all. Instagram breaks any barrier by uniting different sets of people with the power of visuals. Who doesn't love pictures? You can find people from almost all walks of life on Instagram.

Noiseless experience:

According to a lot of people, Twitter is crowded with links, Facebook comes with a few twists and clauses and Google+ is a mystery that they cannot unfold. On the other hand Instagram creates a more realistic and understandable picture of all the communication. Just like Twitter is about trends, Instagram propagates visualization of those trends. Instagram gives you the power to express day to day things beautifully with images and videos.

Familiarity with hashtags:

All of us know hashtags and how to use one. Twitter has already educated us on how to make the most of hashtags to gain maximum reach. Instagram gives users the power to use the hashtags like in any other medium but with a twist. The 3 hashtag per post rule doesn't apply to Instagram, you can actually use as many tags as you like. However, make sure that you choose astutely and use relevant words while tagging because that is what will help you gain traction and reach maximum numbers of 'relevant' audience. To reach maximum target audience on Instagram, make a list of the most used hashtags and tally it with the hashtags your target audience is using. Use these hashtags while uploading your photos. You can also create and use a few brand related hashtags, these can also be something that you are already using on Twitter. Ensure that you don't use hashtags that are not relevant to the photo/video you are sharing. Also, don't overdo it and don't use more than 5 to 10 hashtags at a time.

Emphasis on quality and not quantity:

With millions of images being shared on Instagram every day, brands gets a little panicky and tend to share more images than required, sometimes compromising on the quality. However, as a brand each image and video that you share must be thoughtful, flawless and of the highest quality if it is to catch attention and drive engagement.
Here's wishing you a fruitful and picturesque Instagramming ahead!
For live content and your Instagram strategy write to us at strategist@pulpstrategy.com
---